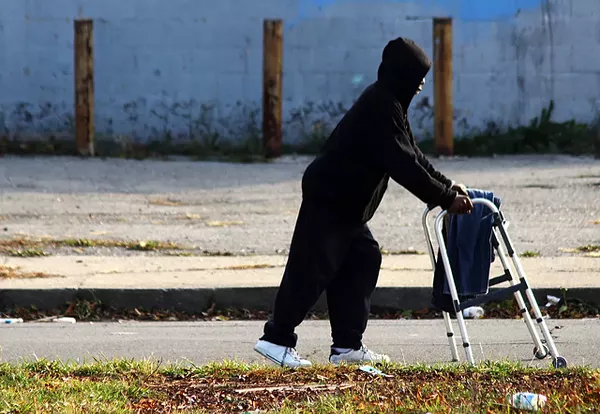 A bill that would require many of the state's Medicaid recipients to show they work at least 30 hours a week in order to keep their coverage comes with an exemption ostensibly designed for people who live in places devoid of employment opportunities. If you reside in a county with an unemployment rate of more than 8.5 percent, you can rest easy knowing that you'll still be eligible for your benefits without having to fill out a bunch of burdensome paperwork and without having to find a job.
But if you're a Medicaid recipient in an urban area where unemployment is high — think Flint or Detroit — you're out of luck. That's because the cities are surrounded by more affluent suburbs with lower unemployment rates. In Wayne County, for example, the average unemployment rate last year was just 5.4 percent; in Genesee County, it was 5.8. In the city of Detroit, meanwhile, the average unemployment rate last year was 9.3 percent. Flint's rate was 10.4 percent.
We reached out to the bill's Republican sponsor and its 10 Republican co-sponsors to learn why the measure was designed in a way to help out people in white, rural areas while leaving people in predominantly black cities in the lurch. None of the lawmakers responded to our calls and emails for comment.
In a piece published last week by the
Detroit Free Press
, columnist Nancy Kaffer noted out that the provision exempts from work requirements Medicaid recipients in counties represented by at least one of the bill's co-sponsors. Last year, Sen. Wayne Schmidt's Mackinac and Cheboygan counties both had average unemployment rates of more than 10 percent.
The work requirements bill, which has passed the Senate and is in committee in the House, would primarily impact people enrolled in Healthy Michigan, the Medicaid expansion program created under Obamacare. It would require able-bodied Medicaid recipients between the ages of 19 and 64 to spend an average of 29 hours a week working, going to school, or getting job training. Though more than 50 percent of the state's Medicaid recipients already work, about 20 percent are expected to lose their insurance if the onerous new regulation is approved.
Communities that will likely see the highest number of residents lose their health coverage are those with the highest levels of Healthy Michigan enrollees. Wayne County is among those, with 11 percent of its population enrolled in the program, according to data compiled by
MLive
. Half the county, is of course, made up of Detroit, where many people have long struggled to get work due to issues like high car insurance rates and a lack of adequate public transportation to help connect them with well-paying jobs. While the city's unemployment rate is reported at more than 9 percent, experts believe real unemployment is
double that
.
The fact that Republican lawmakers do not believe these circumstances warrant an exemption is a reflection of their underlying racist sentiment, says House Rep. Yousef Rabhi (D-Ann Arbor), a member of the House committee going over the bill.
For Rabhi, the work requirements bill on its own reflects a Republican assumption that safety net services are abused by the poor. But the seemingly discriminatory exemption provision, he says, takes it a step further, showing that they have a more favorable view of poor people if they're white.
"That racist aspect is is so clearly reflected in this proposal," he says. "It's OK that I have Medicaid as a rural, white person, but it's not OK that people in Detroit have Medicaid, or that people in Flint have Medicaid because 'they're lazy,' because 'they just abuse the system.'"
The bill has been cast by supporters not as a cost-savings measure, but as a way to stimulate the economy by incentivizing people to work. But Rabhi says that logic runs counter to the notion that people in some areas of high unemployment should get a carveout.
"If this is helping to stimulate our economy and to create jobs, then why is it [that some lawmakers] don't want their counties to have this great, wonderful program?" he says. "[By that logic] shouldn't the worst-off places be the ones that benefit most?"
Regardless of the intent of the Republican lawmakers behind the proposal, two University of Michigan professors wrote in a
New York Times
op-ed that it appears to violate Title VI under the Civil Rights Act. Title VI prohibits recipients of federal funds from employing "methods of administration that appear neutral but have a discriminatory effect on individuals because of their race."
"Could the courts step in if Michigan's bill passes? We think so," professors Nicholas Bagley and Eli Savit wrote in the piece published Tuesday. "Michigan needs a waiver from the Department of Health and Human Services before it can move ahead with work requirements. As with most kinds of federal agency action, the decision to issue a waiver can be challenged in court, and will be invalidated if the court finds the agency's decision 'arbitrary.'"
"It would be the height of arbitrariness — and hence unlawful — were the Department of Health and Human Services to bless a state policy that so flagrantly violates the agency's own anti-discrimination rules."
Gov. Rick Snyder has indicated he's open to instating work-related requirements for Medicaid recipients. His office said Tuesday that he's working with the bill sponsor on language and would not approve the bill in its current form. Snyder's office did not comment specifically on the exemption provision for counties with high unemployment.
Stay on top of Detroit news and views. Sign up for our weekly issue newsletter delivered each Wednesday.