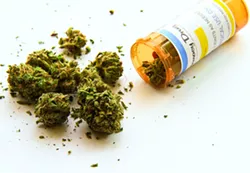 The Michigan Department of Licensing and Regulatory Affairs has reversed course on a plan that medical marijuana activists feared would have left patients without medicine for months.
In September, the regulatory body in charge of working out the details of the new marijuana laws to go into effect this year said it would require the state's dispensaries to close by Dec. 15. That's the date that dispensaries can begin to apply for licensure under the new rules, but because the laws do not clearly state when those licenses will be granted, patients expressed concern about a possibly lengthy gap period in which they would have limited access to marijuana and marijuana-based products.
LARA heeded those concerns. Acting on behalf of patients, its marijuana regulation bureau said Wednesday that
it would let existing dispensaries stay open as their applications for state licenses are processed, provided that their home community has given them permission to do so.

"Through emergency rules, the Bureau and Board will not consider a medical marihuana facility's prior operation as an impediment to licensure as long as the applicant documents approval from their municipality in their application," Andrew Brisbo, head of Michigan's Bureau of Medical Marihuana regulation, said in a press release.
The state initially said that if pot shops didn't close by Dec. 15, it would hinder their chance of being approved for a license. LARA's ruling came after Medical Marihuana Licensing Board member Don Bailey, a former Michigan State Police trooper, advocated for a September closure date, saying that the state's dispensaries are already operating illegally.
Currently, Michigan pot shops do operate in a legal gray area. Those that are open have municipal approval, but in 2013, the Michigan Supreme Court ruled that the state law that legalized medicinal marijuana did not allow for dispensaries.