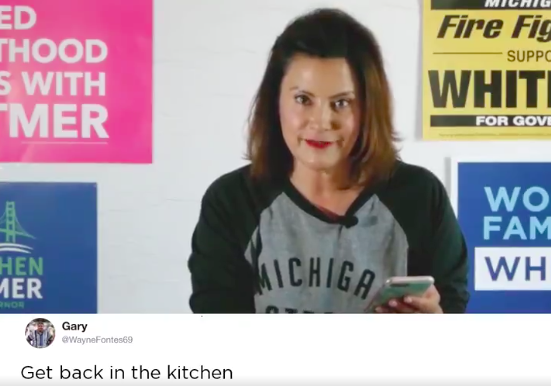 There are a lot of things to get angry about when it comes to politics. People dying because they don't have health care? Blame politics. People living under bridges instead of in homes? Politics. Car tire swallowed by a pot hole? While less important, yes, that's politics too.
Then there are the political gripes so trivial they honestly bear mentioning only for their lunacy. And that's where we turn our focus to Michiganders who are apparently angry about the use of mild curse words. Yes, they are offended by Democratic gubernatorial candidate Gretchen Whitmer's most visible campaign slogan, "Fix the damn roads."
"Just don't say 'damn' anymore," a woman on the internet urged of Whitmer yesterday. "[It] takes away from your ladyness."
Just don't say, "damn" anymore. I takes away from your ladyness.

— Kristin Peterson (@ladyinabag1) August 29, 2018
"Ladyness," and apparently portability, are important attributes for Kristin Peterson, whose Twitter handle is @ladyinabag1. And ladies shouldn't say "damn" in public.
While Whitmer's oft-repeated slogan can certainly be considered irritating, it's hard to see what everyone is so worked up about. But we are also willing to admit our bias here, as we regularly print top-shelf curse words with pride,
sometimes
even
in
headlines
.
So assuming Peterson and her crowd are not
MT
readers, we will now resume trolling them.
Men are also mad about Whitmer's use of the word "damn."
WHY, did Gretchen Whitmer have to curse in her add where she's running for Governor of the state of Michigan!!! She's said, "We've got to fix these DAMN roads"!!! She could have said horrible or terrible!!!

— Stephen Paul Kettere (@PaulKettere) July 23, 2018
Dear Gretchen Whitmer: Is it possible for you to do one campaign ad that doesn't use the word "damn"? Just one? #michigangovernorsrace #michigan #campaignads

— John Benson (@jvhdbenson) July 28, 2018
This guy, a dad, is red-faced-emoji mad his kids now think it's OK to say damn:
Whitmer is taking the Trump ideology that talking tough works. In the mean time, I have two daughters running around the house saying "damn this" and "damn that." Thanks for being so courteous @gretchenwhitmer 😡

— jkdanhof (@jkdanhof) August 3, 2018
Others seem to dislike Whitmer's use of "damn" because they think she comes off smug:
Here's my one and only political tweet for 2018...Gretchen Whitmer looks like she feels so BA when saying damn in the phrase "It's time to fix the damn roads." That is all.

— Clay Cross (@ccross239) July 27, 2018
Others think it just makes her look like a centrist:
Dear Gretchen Whitmer: People who don't cuss think "damn" is awful. Those who do, just want you go for one of the big ones. Way to play the middle and tick everyone off.

— Brent McNitt (@coachmcnitt) July 27, 2018
Obviously, Whitmer is saying "damn" to seem "tough" and "relatable." It's an apparent lift from the playbook of the Democratic National Committee, which turned to swearing after President Donald Trump was elected, because a focus group probably determined it would make them seem "tough" and "relatable." DNC chair Tom Perez is known for saying "shit" a lot in speeches (there's a pretty devastating compilation of this put together by
CNN
). The party also started selling shirts last year that say "Democrats give a shit about people."
A spokeswoman for the DNC explained the swearing in a statement to CNN:
"Tom is angry, and he's angry because Donald Trump continues to stick it to the American people. Whether it's attempting to kick people off their health care or making it harder to buy a home, his policies are hurting our country, and Tom will continue to stand up to Trump and his administration on behalf of the American people."
Similarly, Whitmer explains her swearing like this:
Whitmer on her "fix the damn roads" mantra: "I understand that some people might not appreciate the word damn, but the fact of the matter is, that's how people across our state feel about the roads and talk about the roads"

— Jonathan Oosting (@jonathanoosting) August 2, 2018
Whitmer's campaign team also sees reason for use of the word "damn." Things are just that damn bad!
"Every day on the campaign trail people talk about how they are fed up because Michigan's roads have gotten worse under Governor Snyder and Bill Schuette, not better," Whitmer campaign spokesman Zack Pohl told
WZZM
earlier this summer. "Gretchen Whitmer has a real plan to finally fix our roads and bridges the right way, the first time, with high-quality material and mix so we get the job done right. It's time to get it done."
So to sum it up, what we're saying is if you're mad about "damn," you're kind of lame. But if you think this is anything other than focus group-tested political maneuvering, well then damn you.
My husband:

I'm voting for Gretchen Whitmer because she's easy on the eyes, has a potty mouth, several years of experience and she wants to fix the damn roads. Anyone from Michigan knows of the trouble we have with our roads! 🤣

— Cynthia P. How much longer??? (@CindyDytle) August 1, 2018
Stay on top of Detroit news and views. Sign up for our weekly issue newsletter delivered each Wednesday.