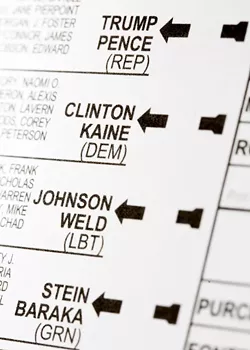 U.S. District Judge Mark Goldsmith suspended Michigan's presidential election recount on Wednesday — a reversal of
his emergency Monday ruling
for the recount to commence. Goldsmith's ruling sides with a state appeals court ruling, which instructs the recount to end Thursday.
According to Goldsmith, Green Party candidate Jill Stein, who requested the recount, lacked evidence that the election was hacked
as some experts have suggested
.
Goldsmith wrote in his ruling that Stein's request for a recount "would require, at a minimum, evidence of significant fraud or mistake — and not speculative fear of them. Such evidence has not been presented here."
Even though President-elect Donald Trump defeated Democrat Hillary Clinton by a razor-thin margin of just 10,704 votes, the recount so far has failed to show any significant change in numbers for either candidate.
However, what the recount has revealed is widespread issues with Michigan's voting process.
"It is revealing some really troubling aspects of how elections are run here," Stein attorney Hayley Horowitz
told the Free Press
. "We think that's part of the reason the recount should continue — to continue revealing those problems so that the people of Michigan can see how their election operates."
As
Motor City Muckracker
reported, many of Detroit's precincts were ineligible for a recount due to discrepancies between numbers in the polling books and the numbers on the ballot box. "That's bad news for Hillary Clinton, who lost the election by just 0.15% in Michigan and gained 95% of the Detroit vote,"
Muckraker
's Steve Neavling writes. "If she's going to pick up a significant number of votes, it would be in Detroit."
Stein's lawyers say they will appeal to the Supreme Court.