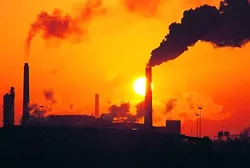 Michigan's Silent Spring
Dear Editor,
I am shocked that Michiganders are still being subjected to toxic pollution from DTE Energy's coal burning power plants!
Over a decade ago I was stunned to learn all of Michigan's 11,000 lakes were issued a "fish consumption advisory" by the state due to poisons like mercury emitted from burning fossil fuels. Metro Detroit still suffers the 6th worst air quality in the nation, according to the American Lung Association.
Each year, Michiganders spend $1.8 billion to import coal and then pay an estimated $1.4 billion in health care costs [treating] cancer, asthma, etc., directly linked to pollution from burning coal.
Most states are now creating thousands of new jobs and better health through clean energy such as wind, solar, hydro and geo thermal.
It's time for DTE to step up to its urgent moral and financial responsibility.
Nancy Davis
Orchard Lake, Sept. 12, 2013
The author is a former member of the Orchard Lake City Council.
Digital Pickings
FROM metrotimes.com
"Let's Bomb Syria, Right Now!"; [Politics & Prejudices, Sept. 11-17, 2013]
313libertarian wrote: President Obama's approach to the Syrian situation shows what little leadership skill he has. Putin, while appearing to bail out the president by offering to help broker a deal to convince Syria to give up their WMD, protects Russia's military presence by legitimizing Assad. The civil war will continue with innocent Syrians dying while the Russian's ally, Assad, allows Russia to maintain a military base there. His going to Congress was meant to buy time for what little outrage has been shown to diminish.
Left Toin at Albukoykee …
Dear Editor:
re: "Motor City Angling"; [12th Man Report, Sept. 11-17, 2013]
Your writer needs to buy a map if he ever decides to write an article with geographical boundaries. The fishing tournament he opines about was based in Lake St. Clair with launch points in St. Clair Shores (hence the name) and Harrison Township, with the weigh-in and trophy presentation at Lake St. Clair Metro Park, which he failed to mention.
Dennis Marentette
St. Clair Shores, Sept. 12, 2013
Bravo, Bravo …
Dear Editor:
To your new food critic, Aaron Egan, I say: You really made my mouth water for the menu. The way you described the food – perfect! Great job.
Darlene M, Levinson
Farmington Hills, Sept. 12, 2013
The author is a faculty member in the Hospitality/Culinary Arts department at Oakland Community College.