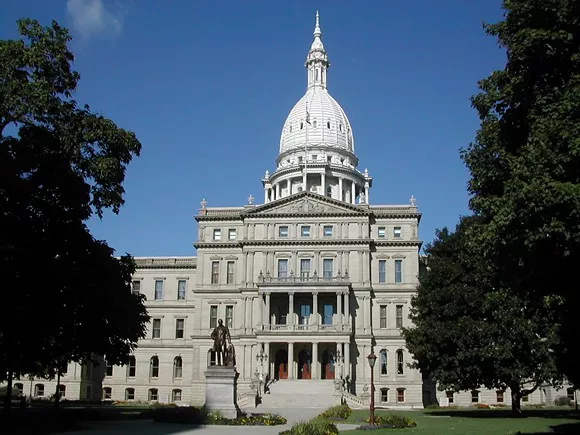 Updated at 7:37 p.m. on Wednesday, Sept. 5:
The Republican-led Michigan House has now also adopted a pair of citizen-led initiatives that would raise the minimum wage to $12 and require employers to offer paid sick leave to their workers. The
Detroit News
reports that an attorney with the One Fair Wage ballot committee, former Michigan Democratic Party chairman Mark Brewer, plans to sue if Republicans weaken the wage proposal. According to the
News
, amending a citizen-initiated proposal in the same session could violate the Michigan constitution.

Originally posted at 1:31 p.m. on Wednesday, Sept. 5:
In an unprecedented move described by critics as an "attack on democracy," the Republican-led Michigan Senate has voted to adopt a ballot initiative to raise the minimum wage to $12 per hour with the goal of amending the proposal and keeping voters from deciding on it. The body did the same with another citizen-led proposal that would have required employers to offer workers paid sick leave.
The Republican-led House was expected to vote to adopt the proposals as early as this afternoon, putting lawmakers on track to make legislative amendments and approve the proposals with a simple majority. Had lawmakers waited to make changes to the proposals after they were approved by voters, they would have required a 3/4 majority in each chamber.
What exactly Republicans will do to the proposals is not yet clear. According to several media outlets, Senate Majority Leader Arlan Meekhof, R-West Olive,
wouldn't discuss specific changes
.
"We're looking at all kinds of things... there's a whole suite of things that we're looking on at this point, so we haven't settled on any one thing yet," he was quoted by
MLive
as saying.
The One Fair Wage proposal would have phased in a minimum wage hike with annual increases starting in 2019. Wages would have risen to $12 by 2022, with further increases tied to inflation. Tipped workers would also have benefited from the initiative, as it would have put them on a path to make at least $12 by 2024. Michigan's minimum wage is currently $9.25. For tipped workers, it's $3.52.
Meekhof did tell reporters he was concerned about the portion of the proposal that eliminates the tipped wage. He also reportedly said he was concerned about employees taking "unplanned sick leave" — AKA getting sick.
MLive
described him as worried businesses would be "left in a lurch."
In a comment reported by
The Detroit News
, Meekhof appeared to attempt to allay concerns about the coming changes — saying those sick folks can rest assured, bringing their illness to the job will ensure the state moves forward economically!!! (OK, he didn't say that second part, but we assume that's what he meant.)
"We'll consider different options and a whole suite of things we think are more friendly to Michigan, to make sure that workers are indeed cared for, and that still provide for economic development moving forward," Meekhof said.
Senate Minority Leader Jim Ananich of Flint told the
News
he's expecting the worst.
"There's no question they plan on making dramatic changes, if not repealing it altogether," the Democrat said. "We have no idea what that's going to be."
Sen. Curtis Hertel, a Democrat from East Lansing, reportedly called the maneuver by Republicans "a classic bait and switch, a trick on the voters of Michigan, an attack on democracy."
Stay on top of Detroit news and views. Sign up for our weekly issue newsletter delivered each Wednesday.