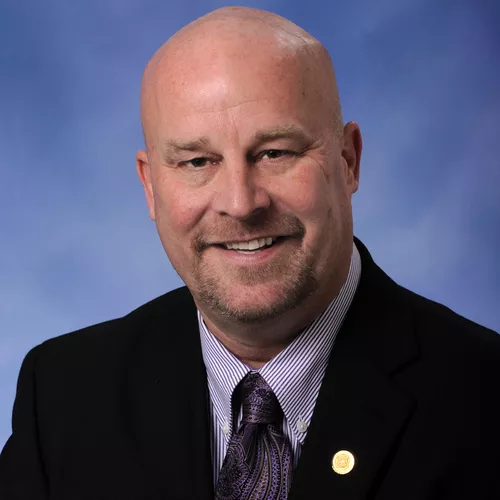 Writing for Vice Sports, Kevin Trahan asks a simple question: Why won't Michigan Republicans offer an explanation for their bill that
bans student athletes from unionizing
?
The reason, it appears, is because they just don't have one. Or, perhaps, because it involves the word "union." Trahan got state Rep. Al Pscholka, a Republican of Stevensville, on the horn, but his line of questioning — i.e.,
why
? — somehow didn't sit well. And that probably has something to do with the fact that no one has yet to ask Pscholka what the deal is.
Really: Pscholka wasn't pleased.
Now, however, I was demanding that Pscholka think critically, both about his bill and about the larger topic of college sports amateurism. Why, I asked him, did former Michigan quarterback Devin Gardner not deserve to make money like other students? Was he really worth nothing on the free market?

"I'm done," Pscholka said. "I'm done. You've talked to me for 40 minutes."

Pscholka was off by 23 minutes. But never mind math. I asked for one more question. True to his word, Pscholka was "done," staying silent on the line for a few seconds before finally hanging up.
Trahan reached out to five Republican representatives, former Speaker Jase Bolger, well-known conservative strategist Greg McNeilly — and not a single one of them returned a call. Only current Speaker of the House, Kevin Cotter (whose
bizarre rambling about seat arrangements
still has us laughing) provided a response: No comment.
So what's going on here? The bill was introduced, debated, passed, and signed by Republican Gov. Rick Snyder in a matter of weeks, and no one can even explain what sparked a remote interest in it, whatsoever. Did Pscholka catch wind of a secret plan by the U-M football team to unionize?
Nope.
"Nothing specific," [Pscholka] said, "and I think Northwestern was probably more of the impetus than anything else."

Pscholka was referring to Northwestern University football players winning the right to unionize at the regional level of the National Labor Relations Board last March. The NLRB's national office is still weighing an appeal of the decision, though it's likely the players will prevail. Yet whatever happens, the ruling has little to do with Michigan.
Eventually, Trahan arrives at an almost certainly correct conclusion: It just had something to do with unions. And now, without any thought, student athletes can't even consider the thought of collectively asking for better treatment. Bravo.