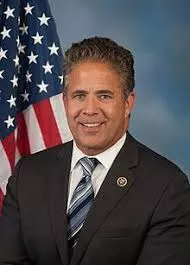 The U.S. Representative whose district includes East Lansing has submitted a letter requesting that Congress open a wide ranging investigation into the U.S. Olympic Committee and USA Gymnastics in the wake of Larry Nassar's abuse of scores of young gymnasts.
Nassar molested more than 150 girls and young women in his capacity as doctor for the national governing body for gymnastics and Michigan State University's athletic department, conducting questionable intra-vaginal exams under the guise of pain relief.
And while Nassar will be
in prison for life
— he was sentenced yesterday to at least 40 years behind bars, on top of an already-issued 60-year sentence for child porn — questions about how his abuse was able to continue for decades remain.
According to media reports, USA Gymnastics got word of Nassar's misconduct
as early as 2015
, but didn't bring the information to the FBI until weeks later, after at least three athletes had come forward. At Michigan State, a
Detroit News
investigation found that at least 14 MSU officials had heard something about Nassar's behavior over the years. School president Lou Anna K. Simon was one of them, and yesterday resigned under mounting pressure.
launch an investigation
into the school, but there's a
rising chorus of voices
demanding an inquiry into USA Gymnastics as well.
Michigan Republican Rep. Mike Bishop appears to be the second lawmaker to call for such an investigation. Yesterday, New Hampshire
Sen. Jeanne Shaheen
asked for an inquiry into USA Gymnastics and the U.S. Olympic Committee handling of the Nassar case, specifically.
"We must not lose sight of our primary responsibility, which is to ensure justice for all victims," Bishop said in a media release. "Since 1982, more than 290 coaches and officials connected to the U.S. Olympic Committee have been accused of sexual misconduct. That is unacceptable."
Bishop says he requested the inquiry in a letter to Congressman Trey Gowdy, Chairman of the House Committee on Oversight and Government Reform, and House Speaker Paul Ryan.