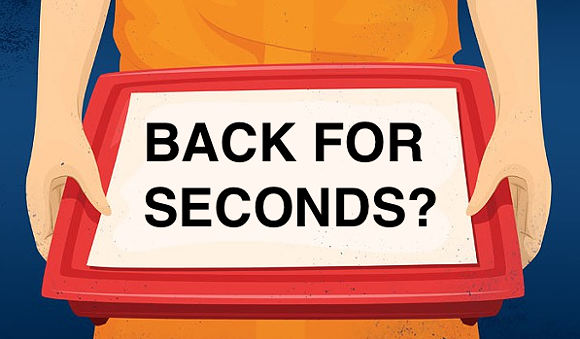 One thousand inmates at Kinross Correctional Facility protested the quality of the food on Sunday and Monday this week, with about 1,000 prisoners skipping meals in silent protest, a
ccording to reports
.
This isn't the first instance of incarcerated Michiganders reacting to poor quality food. You may remember our cover story, "
What it's like to actually eat the food in Oakland County Jail
," which was also served by the same contractor, Aramark Services, that provided food to the Michigan Department of Corrections. It was the final straw in two years of news reports describing how the company served food tainted by maggots, knowingly served rotten meat, ordered inmates to serve food pulled from the garbage, and handed out food that was moldy or on which rats had nibbled. It led to prisoner protests and lawsuits. It didn't help that Aramark workers were smuggling heroin and cocaine into prison and having sex with inmates. (Or that Aramark just happened to overbill the state of Michigan by $3.4 million. Oops!)
Our OC Jail piece, in fact, ran shortly before the Snyder administration canceled Aramark's contract. But it was less a case of Snyder rushing to the rescue than it was the administration being unable to run interference for the company's nasty practices anymore. When the dust settled,
Progress Michigan released a report calling the fiasco "A Failed Privatization Experiment."
In addition to many damning findings, the report questioned whether the new vendor brought in to replace Aramark would experience more vigorous oversight than Aramark clearly needed. Lonnie Scott, executive director of Progress Michigan, says, "There is little doubt the administration's failures will continue unless further scrutiny and accountability is applied to all privatization across Michigan." And our further reporting showed a situation that seemed on track to continue, with
prisoners reporting that food from Trinity was also substandard
.
Well, guess what: The problem clearly hasn't gone away by switching up contractors. And the story is just going to get more interesting. For instance,
the Free Press reports
that Trinity "has had 59 of its kitchen employees fired and subjected to 'stop orders,' banning them from prison property for a variety of infractions ... which can range to telephoning or writing a letter to a prisoner to engaging in sex acts. ..."
Expect more specifics to come.
=================================
Oh, and by the way — before any readers decide to comment that prisoners should be eating bread and water and have no right to complain about the quality of the food, they should consider one more thing: One of the groups most concerned about these protests and prisoners not getting quality food is the Michigan Corrections Organization, the labor union representing more than 10,0000 corrections personnel in the state of Michigan. See, they don't like it when any grievance is so undeniable that it gets 1,000 prisoners to agree to engage in protest. It makes their job more dangerous, more difficult, and more demanding.