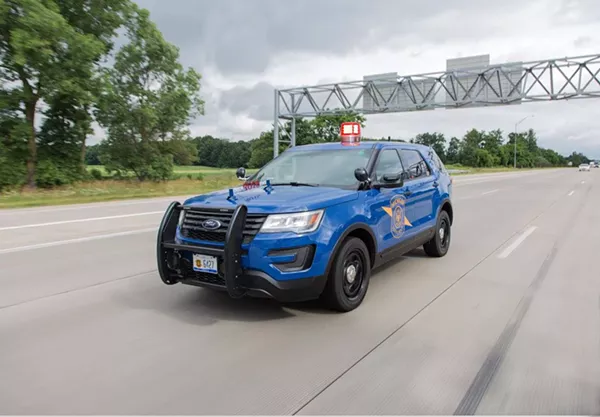 Speeding might be less risky for drivers in Michigan as police officers are issuing fewer citations annually.
But that drop is costing county sheriffs' departments thousands of dollars each year for patrolling the state's back roads and to investigate crashes.
The program, known as secondary road patrol, is a state program of traffic enforcement and crash investigation on non-main roads in the counties, including parts of national and state parks.
It was funded solely by state grant general fund from 1979 to 1992. But now it is self-funded by the surcharge added to fines generated by traffic citations issued by all police. Partial allocation from the general fund continued from 1992 until 2003 when it was completely eliminated.
The average number of citations issued per deputy has decreased from 582 in 2006 to 444 in 2016, according to a report by Michigan's Office of Highway Safety Planning. That resulted in a loss of nearly $3 million to the secondary road patrol program during the past 10 years.
"The two are intertwined," saiys Blaine Koops, executive director of the Michigan Sheriffs' Association. "The number of citations equals the amount revenue that's generated."
There may be multiple reasons for the decrease in citations, Koops says. But more compassionate officers may be among them.
"Part of it is the whole demeanor of the new police officers," Koops says. "Number one is more compassionate police officers as far as looking at an individual and their individual circumstances but also their looking at their job differently."
Koops says more officers are looking at their jobs as more community-based as the people they serve are also the people they live among.
Other reasons for the decrease in citations have to do with changing road environments. Barriers dividing the freeways have made it more difficult for officers to catch violators.
"If they're tracking opposite direction traffic, they cannot go through the median to track that vehicle," Koops says. "If indeed they're going to track that vehicle, they have to go to the next emergency exchange in the middle of the road which can be several miles away."
Officers are also more cognizant of being filmed or having to use body cameras which may make them less likely to ticket speeders.
The decrease in funding has led also to a decrease in secondary road patrol deputies funded through the program, taking officers off the road. At the program's inception in 1979, 287 officers were funded by the secondary road patrol funds. Now approximately 126 officers are funded through the program.
That shifted costs to local government. The number of county-funded officers has increased from 1,123 in 1979 to approximately 2,184 in 2016.
"There's just not enough money to put the deputies on the road," Koops says. "That money is spent really as far as a funding source to augment the general fund that a county puts into traffic enforcement."
Eighty-eight percent of the program's expenditures, or about $11.8 million, are spent on personnel costs. Each deputy costs approximately $97,258.04 including salary, fringes, vehicles and equipment.
The decrease in funds to the program has no quick solution, Koops says.
"Truthfully, right now there is no solution," he says.