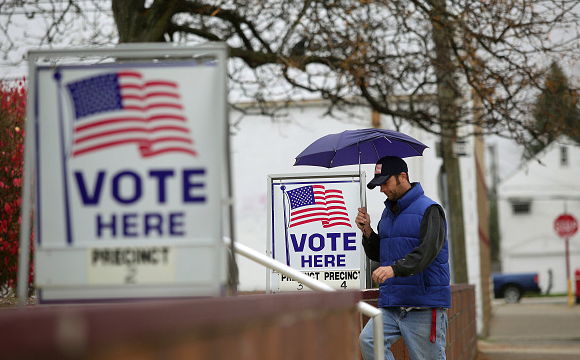 Michigan may see its highest primary voter turnout since 1978 tomorrow, based on at least one expert's assessment of the number of absentee ballots requested and returned.
The Detroit News
reports that as of last Thursday, 50 percent more Michigan residents had requested absentee ballots and 39 percent more had returned them than approximately the same time in the 2014 primary cycle.
As of Sunday, at least 527,000 ballots had been returned, according to the Michigan Secretary of State. According to Mark Grebner, absentee ballots typically equate to roughly 30 percent of total votes — meaning that about 1.8 million voters could turn out for tomorrow's primary elections, topping the 1.7 million last seen in 2002.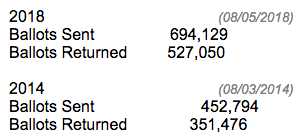 Grebner attributes the uptick to "serious statewide contests in both parties."
"This is the first time since 2002 that I can remember that happening, before that you have to go back to [the 1980s]," Grebner says.
Down-ballot races with lots of candidates can help boost turnout too, says Grebner, as local candidates tend to do a better job knocking on doors and generating interest than statewide candidates.
But the high turnout trend does not appear as if it will extend to Detroit. City officials tell the
News
they're expecting turnout to remain flat over four years ago.
Still, experts including Grebner are anticipating a high turnout of Democratic voters, even if the number isn't boosted by solidly liberal Detroit.
"It helps to have one party feeling really frantic because of the state of national or state affairs," said Grebner, "In this case, the Democrats are berserk about both the national and state situation."
As for the right side of the political aisle, Grebner told the
News
he expects a "soggy" response in Tuesday's primary. Another expert told the daily he did not expect a drop in Republican interest.
Jacob Stocking is a summer editorial intern at the MetroTimes.

Stay on top of Detroit news and views. Sign up for our weekly issue newsletter delivered each Wednesday.