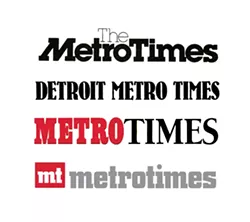 28 years ago in Metro Times: MT reports on a growing developer interest in building casinos in such outlying Detroit areas as Monroe County and the vicinity of Metro Airport because of potential heavy traffic such casinos might receive. The idea is to build "world-class" resort-style getaways among the overbooked motels and hotels that sport views of the airport. Ten years later, large casino and hotel resorts, such as MotorCity Casino, MGM Grand Detroit, and Greektown Casino would be approved, only to fall to a nearly annual decrease in revenue in recent years. Last week, it was reported that Detroit's casino revenue was down 6 percent since 2013.
WHAT WAS HAPPENING: Siouxsie & the Banshees at Royal Oak Music Theatre, Benny & the Jets at Ashley's, the Guess Who at Pine Knob.
22 YEARS AGO IN METRO TIMES: Vincent A. Carducci reports on then-Mayor Coleman Young's motion to eliminate the Detroit Council of Arts from the city budget. "The rationale is the single appointment of scarce resources," Carducci writes. "In these desperate times, funding the arts is a luxury." The DCA was established in 1974 by city charter. In 1991, its funding represented less than one-tenth of 1 percent of the city's budget, less than 10 cents of every 100 taxpayer dollars. In its day, the DCA hosted programs such as the Summer Youth Arts Program, which provided an avenue for city kids to express themselves through art, and the Annual Gallery Crawl, which by 1992 had included 30 galleries and achieved a turnout of nearly 3,000. Today, the arts in Detroit still struggle against the machine, as even the Detroit Institute of Arts is threatened by hungry creditors looking for assets to seize from a city in bankruptcy.
WHAT WAS HAPPENING: The Cure at the Palace of Auburn Hills, Smashing Pumpkins at Clutch Cargo's, Lollapalooza at Pine Knob.
18 YEARS AGO IN METRO TIMES: Jane Slaughter reports on the difficulties experienced by recent college graduates when it comes to finding a job. To show how times have changed, Slaughter interviews Rick Massengill, a Downriver man who, in the late 1960s, went to work for unionized supermarket chain A&P at the age of 16, and was able to buy his own house when he was just 17. Slaughter documents the way recent grads are settling for positions with little job security and little upward mobility, while taking on more responsibilities and longer hours, and raises the question of whether getting a college education even helps. Sadly, this issue is still prevalent among job-seeking graduates today. In fact, the underemployment rate of this group is the worst it's been in two decades.
WHAT WAS HAPPENING: Spacehog at St. Andrew's Hall, Suicide Machines at St. Andrew's Hall.
16 YEARS AGO IN METRO TIMES: Jennifer Bagwell covers a threat to gay rights in Ypsilanti, where a law forbidding employers from discriminating against potential hires based on sexual orientation was suspended by the city, an effort spearheaded by a group of local pastors. Today, gay rights have advanced somewhat in Michigan in a similar way — one step forward, one step back — illustrated by a recent court ruling allowing same-sex marriage, which was instantly stayed by an appeal filed by the state's attorney general.
WHAT WAS HAPPENING: Bad Religion at the Blind Pig, Dream Theater at St. Andrew's, Modest Mouse at the Magic Stick, Fugazi at the State Theatre.
12 YEARS AGO IN METRO TIMES: Lisa M. Collins reports on the third Detroit Electronic Music Festival, or "God's event," as founder Carol Marvin calls it. Marvin explains that God told her to make it a reality, while in a Starbucks of all places. Marvin caused quite a stir internally and publicly when she decided to fire the event's artistic director, legendary electronic artist Carl Craig. The decision was unpopular among fans and musicians alike. Rita Sayegh, who was hired to make a documentary on the inaugural 2000 DEMF, calls Marvin "difficult," and adds, "She wants desperately to be a personality." After Ford Motor Company decided not to renew its sponsorship for the 2002 fest, DEMF has struggled to find the necessary funding. Controversy has continued to plague DEMF. What was supposed to be a glorious return in 2014 has been postponed until July 2015. The group cites the construction of the M-1 rail system and "a number of exciting festival developments" as the reasons for postponement.
WHAT WAS HAPPENING: Monster Magnet at St. Andrew's Hall, the White Stripes at the Royal Oak Music Theatre.