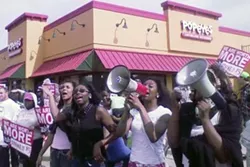 Last week, the media was aglow when Democratic gubernatorial candidate Mark Schauer unexpectedly arrived on the state Senate floor to thank Majority Leader Randy Richardvile (R-Monroe) for passing a bill that would increase the minimum wage to $9.20 per hour.
The idea for Schauer's surprise appearance likely stemmed from the fact that he proposed a similar increase last fall. It was around that time, as Eric Baerren of the Michigan Liberal blog points out, that Richardville viewed a minimum wage bill as a nonstarter.
"It's a firm 'no' for me," Richardville told reporters about four months ago.
So, Baerren wondered, what the hell made Richardville do a complete 180 on the issue? Richardville already fessed up that his bill was an attempt to blow up a ballot proposal to raise the minimum wage to $10.10. (That revelation, we should note, came just days after his spokesperson said that wasn't Richardville's intent.)
Whether Richardville's bill will successfully block the ballot campaign to raise Michigan's wage to $10.10 is unclear. It still has to pass the Republican-led state House, which doesn't appear eager to jump on board just yet. His spokesperson tells us that it was Michigan's citizens who brought about Richardville's change of heart.
"The Majority Leader heard from the citizens of Michigan and understood that there is support for an increase in the minimum wage," Amber McCann said in an email to the Hits. "His chief concern was making sure any increase was responsible and in keeping with the progress of our Michigan economy. He worked with the other side to find a reasonable compromise."
If that's entirely the case, that's fine. But, as we previously reported, it doesn't take away from the fact that Richardville and Co. completely subverted the democratic process. Both parties in Lansing were quick to pat themselves on the back over this minimum-wage compromise, but, again, avoided addressing the ballot initiative process they apparently take serious issue with.
You might recall that in 2012 this legislature passed a revamped emergency manager law just six weeks after voters repealed a similar piece of legislation. That bill included an appropriation attachment, negating any potential repeal in the future.
Things haven't improved since: After lawmakers passed a law designating wolves as a species that could be hunted, the state's Natural Resources Commission set a hunt for last fall. A group responded to the slated hunt and gathered enough signatures to ask voters in this November's election to overturn the law that started the entire process.
But because our legislature seems to have a penchant for creating an end-run whenever possible, lawmakers passed a second law, PA 21 of 2013, which allowed the Natural Resources Commission to designate wolves as a game species unilaterally, without legislative approval. The first ballot referendum approved for the November ballot was rendered null and void.
Basically, it was a giant flip of the bird to the anti-hunt group.
But then, the anti-hunt group won approval of a second ballot proposal to repeal that law too. In essence, our general election ballot this year, which will include multiple races for national and state offices, is shaping up to be a clusterfuck.
If the state House passes Richardville's bill, and Republican Gov. Rick Snyder signs off on it, things will only get more confusing this fall, as the group supporting the $10.10 minimum-wage ballot proposal appears eager to collect enough signatures to put the question before voters.
Imagine the image Michigan would portray to the nation if Richardville's bill is signed into law, and then the $10.10 proposal is approved. To us, it seems it would paint the picture of a completely dysfunctional state, one that's unwilling to grapple with the ballot initiative issue they so clearly despise.