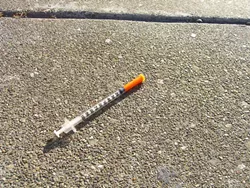 In 2014 more people in Michigan died from drug related overdoses than car accidents — and the state is not alone with this sobering stat. Thirty five other states and Washington DC have seen drug overdoses surpass automobile-related deaths.
In 2014, the last year the data was available, 1,745 Michiganders died from drug overdoses. That same year 876 people died from car crashes in the state.
This not the first year overdose related deaths eclipsed deaths on the road in the Mitten. In 2013, 1,535 people died from overdoses in Michigan compared to the 951 people who died in car accidents.
The above statistic highlights not just a drug epidemic but a
growing
drug epidemic. Between 2013 and 2014, drug related overdoses rose by 14 percent.
As we mentioned before, this is not new. Trust for America's Health, a DC non-profit, says over 2 million Americans struggle with addiction to prescription drugs, and in the past seven years the number of new heroin users has doubled.
The aftermath hits close to home. The Kaiser Family Foundation released a poll in November showing that more than half of Americans report a personal connection to painkiller abuse, with 16 percent report knowing someone who has died from substance abuse and 9 percent with a close friend or family member whose death was substance-related.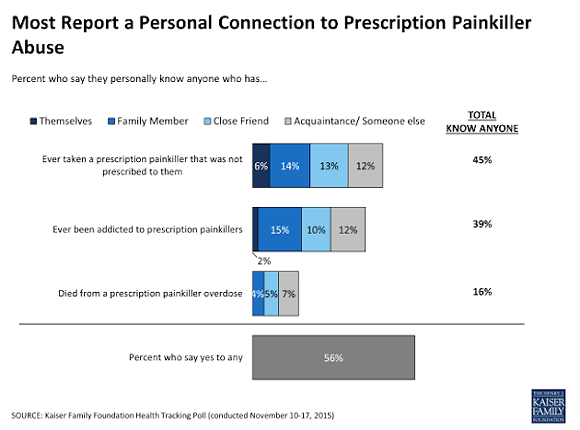 How Michigan and the United States should address substance abuse issues is contentious and often falls along party lines. According to the Kaiser survey, many Republicans believe it is the responsibility of the state government and Democrats see it as an issue the federal government should tackle.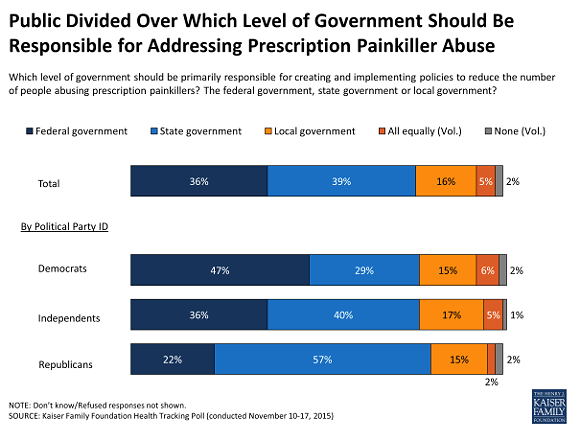 In October Gov. Rick Snyder summoned the Michigan Prescription Drug and Opioid Abuse Task Force. The following month the team released a number of suggestions for how the state could address the growing health crisis. Some suggestions included: Making naloxone — a medication that blocks the effects of opioids — more readily available, and upgrading
MAPS
, the state's prescription drug monitoring system.
That same month, President Barack Obama announced steps to combat heroin and prescription drug abuse — specifically with plans to expand training for doctors who prescribe prescription drugs. According to the
Washington Post
, Obama's administration made clear that it "hopes to double the number of doctors who can prescribe buprenorphine, a drug used to treat opiate addiction, to 60,000 from 30,000 over the next three years."
Candidates have been asked to weigh in on substance abuse in almost every state on the campaign trail.
In January, the United State's heroin problem was a focal point of the Democratic debate.
Hillary Clinton has been criticized in the past for her approval of a number of crime bills that former President Bill Clinton passed in the 1990s that criminalized the use of drugs and ramped up the now-unpopular/failed War on Drugs. Her tune appears to have changed, however. At the NBC News/Youtube debate she explained that "the policing needs to change," adding that the issue must be treated as a health care problem and not a crime. Clinton also touted her $1 billion drug plan, where federal funds would be disbursed amongst states who could come up with individual drug strategies. Lastly, she mentioned the need for police officers and firefighters to be trained on the use of heroin antidotes such as naloxone.
Sen. Bernie Sanders agreed with Clinton's points, adding only that pharmaceutical companies should be held accountable in instances where their drugs lead to overdoses.
On the GOP side, the conversation was a bit different.
Donald Trump's solution to New Hampshire (and America's drug epidemic)? Building a wall.
"New Hampshire has a tremendous drug epidemic," Trump wrote in a February Facebook post three days before New Hampshire's primary. "I am going to create borders. No drugs are coming in. We're going to build a wall. You know what I'm talking about. You have confidence in me. Believe me, I will solve the problem."
Ted Cruz seemed to follow Trump's lead, blaming the drug epidemic on Mexico as well.
"If we want to turn around the drug crisis, we have got to finally and permanently secure the border," Cruz said at forum on addiction in New Hampshire this February. "Now I tell you, we know how to do this. We're told by the media over and over again, this problem can't be solved. You can't secure the border. How many times have you heard a reporter say, 'If you build a 10-foot wall, they'll build an 11-foot ladder.' Reporters think they're very clever. Well, if you want to know how walls work, I invite you all to come to Israel."