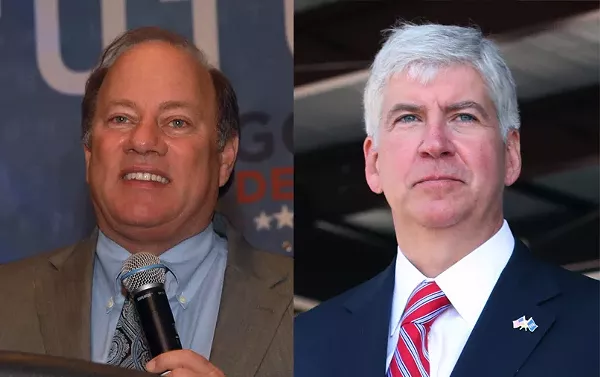 Updated 10:17 a.m. on Monday, June 5:


Detroit Mayor Mike Duggan has joined the growing list of mayors who say they will intensify efforts to meet climate goals outlined in the Paris accord. A spokesman didn't immediately have additional information.

A dozen Michigan cities had joined the list as of Monday morning. They include Grand Rapids, Flint, Hamtramck, and Ferndale.
Originally posted 12:51 p.m. on Friday, June 2:
As the leaders of cities, states, and polluting companies across the country promise to work to uphold the environmental standards outlined in the Paris climate accord following President Donald Trump's decision to withdraw from the agreement, Michigan's political leaders are mostly staying silent on the issue.
Governors of three states
— New York, California, and Washington — have formed the U.S. Climate Alliance in an effort to get states to commit to reducing greenhouse gas emissions on their own. At least five additional states had joined the group by Sunday — four days after Trump's announcement. Michigan, however, had not. A spokeswoman for Governor Rick Snyder on Friday said the office was "monitoring the situation as it develops." On Sunday she said Snyder still had not reviewed the policy of the alliance.
Mayors of at least 83 cities
representing a combined 40 million people, meanwhile, had as of Friday promised to "intensify efforts" to meet current climate goals and push for new action to reach the 1.5 degrees Celsius target outlined in the agreement. Detroit — Michigan's largest city — had as of Friday not joined the list. A spokesman for Mayor Mike Duggan did not immediately answer why and whether that could change.
Ann Arbor Mayor Christopher Taylor and Traverse City Mayor Jim Carruthers on Friday were the only Michigan leaders who had added their cities to the list. About
70 percent of the world's greenhouse gas emissions come from cities
, according to the website of former New York City Mayor Michael Bloomberg, who backs a network of cities taking action on climate change.
Dozens of companies
will join some cities and states in submitting a plan to the United Nations that pledges to meet the United States' greenhouse gas emissions targets under the Paris accord. It was not immediately clear if Ford, GM, or Fiat Chrysler were among them, but two of those automakers did release statements saying that the withdrawal from the Paris Agreement does not affect their plans to reduce carbon emissions.
Said Ford: "We believe climate change is real, and remain deeply committed to reducing greenhouse gas emissions in our vehicles and our facilities. Our commitment to sustainability is why we're investing so heavily in electrification and adding 13 new electrified vehicles to our lineup." GM said it "will not waver from our commitment to the environment and our position on climate change has not changed. International agreements aside, we remain committed to creating a better environment."
Despite that stance,
CEO Mary Barra
has opted to remain on Trump's Business Advisory panel. Tesla CEO Elon Musk and the head of Disney both left the board after Trump announced he'd pull the U.S. from the Paris accord.