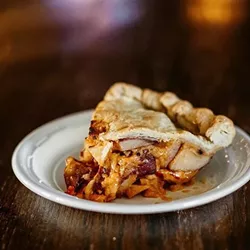 It seems like, in recent years, the food industry
dreamed up and pushed a national holiday
for just about every dish and morsel under the sun.
Check your favorite social media account for updates on the March 5 National Cheese Doodle Day, March 22 Coq au Vin Day, and Nov. 18 National Vichyssoise Day, for example.
Absurd? Maybe. But there's a benefit to you. Today, Monday, Jan. 23, Michiganders and the rest of the nation celebrate National Pie Day (not to be confused with Pi Day on March 14.) That means a free slice of pie awaits with any purchase at The Grand Traverse Pie Company's 15 Michigan locations, including its metro Detroit stores in Rochester, Ann Arbor, Troy, Brighton, and Plymouth.
Grand Traverse is known for its crumbly-top slices, and this year it's offering pie made with Montmorceny cherries and Nothern Spy apples grown in Michigan.
Closer to the city, excellent stores like
Sister Pie
and
Dangerously Delicious
are also celebrating, though free slices aren't on the menu.
Can't make it out? The American Pie Council (yep) lists some thoughtful suggestions including hosting pie parties with the gang, sending a pie to a friend to confirm your friendship, or donating pies to your local police and fire department.