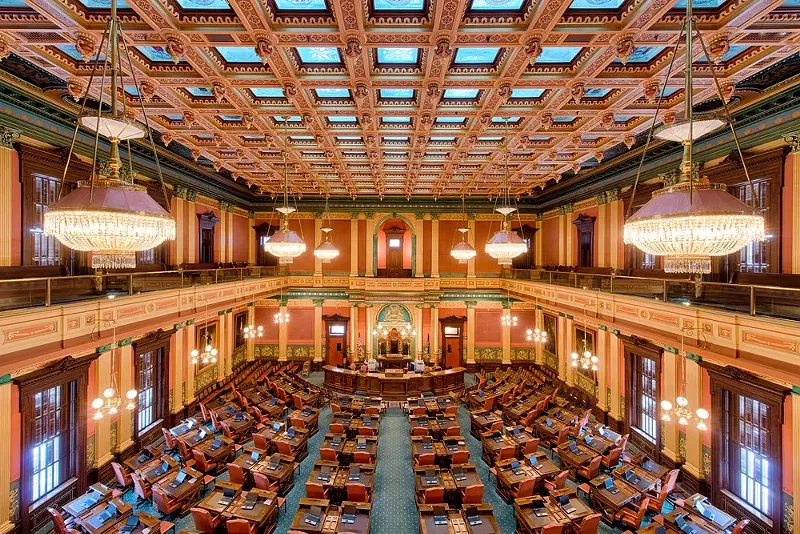 With a national debate centered around gun control reaching a fever pitch, Michigan's Republican-led House of Representatives has decided now is the time to address what they seem to feel is a very urgent and important issue:
Making English Michigan's official language.
Without warning, Republicans rammed
House Bill 4053
through on Thursday. The vote passed 62-46, mostly along party lines. It now heads to the Senate, where it is expected to pass.
Supporters say it merely codifies into law what is already official in practice. Republican Aaron Miller defended his vote, saying, "We're not stepping on toes. We're not turning people away. We're simply saying English is our common language."
Democratic Reps. LaTanya Garrett of Detroit, John Chirkun of Roseville, Robert Kosowski of Westland, and Scott Dianda of Calumet voted in favor of the bill.
Critics of the bill say it is nothing more than a symbolic act of divisiveness.
"This is a fundamentally wrongheaded and exclusionary effort. It excludes people who are deaf and who use sign language and people who are immigrants," said Democrat David LaGrand. "If we start signaling that we shun differences, this is a dark moment for our republic."
Democratic gubernatorial candidate Abdul Al-Sayed, who is the son of Egyptian immigrants, called the bill out in a statement:
"This bill is divisive — it's about tearing Michiganders apart with 'us vs. them' tactics to divide us from coming together to challenge the power of corporate elites who have called the shots in our economy and our politics for too long. But we Michiganders are bigger than this.

When my parents immigrated to Michigan from Egypt, they found a welcoming state — a place that didn't discriminate against them for their native tongue. They found a state that embraced them for who they were, welcomed them into our state's fabric, and gave their children opportunities.

Today, the GOP-led State House just told people like my parents that they are less welcome in our state by voting to limit our official language to just one language. Michigan is big enough to include any and all languages spoken by Michiganders. After all, the first Michiganders — from whose language our state takes its name — never spoke English.

We are and will always be bigger than those who choose to limit us. And when we cross petty divides and come together over our shared future, we can build the kind of state that we want for all our children."
The bill would require the use of English in official public documents, and would not bar any state agencies or local governments from translating documents to other languages.
It's worth noting that Michigan's and Detroit's official mottos, both printed on their respective flags, are not English, but Latin. The state flag says "Si Quæris Peninsulam Amœnam Circumspice," or "If you seek a pleasant peninsula, look about you." Detroit's official motto is "Speramus Meliora" and "Resurget Cineribus," or "We hope for better things" and "It will rise from the ashes."
Stay on top of Detroit news and views. Sign up for our weekly issue newsletter delivered each Wednesday.