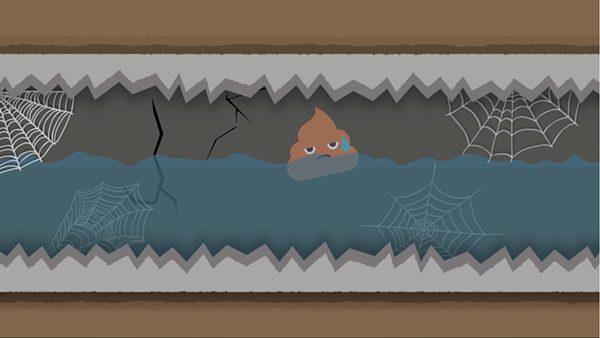 Awww shit!
That's what the Michigan infrastructure campaign Fix MI State is saying in their newest video: The Journey of Number Two.
The two-and-half minute animation follows the journey of everybody's favorite smiling poop emoji as it travels from toilet to treatment facility. Except the emoji isn't smiling, and the treatment facility is not always its final destination.
"When we flush the toilet to get rid of any type of waste, for most of us it's out of sight out of mind," says the video's narrator.
But Michigan's title of "worst state in the nation when it comes to infrastructure" tells us a different story.
Far too often, on the way to its final destination, our bodily waste takes many unexpected turns along the way. Primarily in the form of cracks and breaks in the state's pipes. Some of those cracks are the results of unchecked pipes, which are more than half a century old. When our waste falls through, it mixes with our stormwater on its way to our lakes and rivers.
That's right! All of those beach shutdowns and sewage spills in cities like Kalamazoo, Ann Arbor, Traverse City, and Flint can be traced back to Michigan's infrastructure idleness — and your poop.
"Michigan's failing and overwhelmed infrastructure has resulted in countless beach closures contaminating our most precious resource: Michigan's water — from poop on the loose," continues the video's narrator.
Recent studies from the governor's office and a nonprofit representing Michigan businesses have concluded Michigan needs to invest a minimum of $4 billion more a year to keep up with the state's infrastructure problem. A survey research firm polled 600 Michiganders last month and found 25 percent said fixing infrastructure was the top problem facing Michigan.
Watch the video below:
Jack Nissen an editorial intern for the Metro Times and a masters candidate of environmental journalism at Michigan State University.