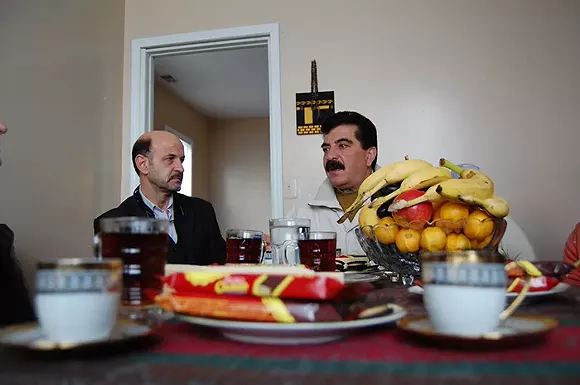 Samir Alrashdan owned two businesses in Syria. One dealt in carpentry, and they built furniture and other residential goods. The other, a roastery specializing in nuts.
In college, he studied manufacturing and Arabic literature. He's married to Intisar who, on a recent Saturday morning, is busy serving an array of cookies, fruit, tea, coffee, fresh juice, olives, and other foods to her guests. He has 13 children, including a son who studied hospitality and now works as a professional chef in Dubai.
Alrashdan is a Syrian refugee, he's new to this country, and he wants those in power to know something: He has nothing to do with terrorism.
In fact, the concept seems almost silly as the man with a neatly trimmed mustache offers coffee to his guests, shares a warm embrace with friends who enter his small home in Hamtramck, and patiently reminds his kids to keep the front door closed as they come in and out from playing in the season's first snow, a novelty they relish in a way no lifelong Michigander ever would.
But that is not to say Alrashdan does not know terror. From enduring and ultimately escaping Syria's brutal Assad government only to live for years in Jordan as a second-class displaced person, he knows all too well the more debase elements of human nature — elements that hurt children, rape women, bomb, gas, and kill without mercy.
"It was a relief to get away from that," says Alrashdan, who resettled in Hamtramck in September after achieving refugee status through the United Nations. "Words cannot express how grateful I am. We consider this now our country, and we want to contribute. We consider this an opportunity to start a new life."
Stories like Alrashdan's need to be heard, says Reem Akkad, a Syrian-American woman and volunteer leader in the Syrian American Rescue Network, or SARN, a group of more than 150 volunteers throughout southeast Michigan who are helping to acclimate Syrian refugees to life in the region.
"Our goal is to put a face to the Syrian refugee crisis," says Akkad, of Bloomfield Hills, who was born in Michigan but lived for nine years in Syria as a teenager and young adult. "People are just kind of saying, 'Let's cut them off,' but I wanted to put a face to their stories so that people know what refugee really means. They didn't choose to have their livelihoods taken away from them."
SARN works to support refugees, often in less obvious ways: procuring a donated microwave, driving a family member to the doctor's office, stopping by to share a cup of coffee. But as the rhetoric in the United States toward Syrian refugees grows increasingly vitriolic — fueled by calls from local and national political candidates and elected leaders to monitor mosques, register Muslims, and "wake up and smell the falafel" — SARN has taken on the additional role of public relations firm, hoping to shine a light on the people affected by this crisis.
On this morning in Alrashdan's home, a SARN volunteer videotapes a number of refugees as they share their stories in stark detail.
Rasha Basha, of Bloomfield Hills, says the negativity directed toward people who are truly suffering only "gives me the willpower to want to do more."
Basha founded SARN earlier this year after speaking with State Department officials and local resettlement agencies about the need for greater support for the refugees. The group now works with about 200 refugees.
"I just want to show the public, show the world, that these are innocent victims," Basha says. "They are just like the victims of Paris. They are just like the victims of 9/11. They just want safety for their kids and family."
This battle over the public's perception is something that advocates for refugee resettlement have dealt with before. According to the Pew Research Center, opinion polls over the decades show that American opposition to admitting large numbers of foreigners fleeing war and oppression has been fairly consistent, whether for Hungarian political refugees in the 1950s, Vietnamese in the 1970s, or Cubans in the 1980s.
The biggest fears are around safety and security, said Sean de Four, the vice president of children and family services at Lutheran Social Services of Michigan, an agency that has resettled about 80 Syrians in metro Detroit this year.
His organization, the largest of its kind in the state, encountered similar fears in its efforts to resettle thousands of Iraqi refugees in metro Detroit since the U.S. invasion in 2003.
"The lesson here is that the fears that people had initially did not bear out to be true," de Four says. "Thousands of Iraqi refugees have been resettled, and they've been resettled here safely and peacefully."
There is often misunderstanding about what it means to be a refugee accepted into the United States and the rigorous screening process that is employed, de Four says. Often, people conflate refugees with immigrants who enter the country illegally, but the two groups are vastly different.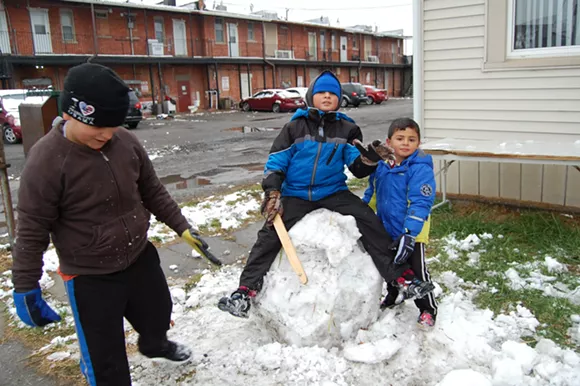 "One of the biggest misconceptions is that refugees come here and become a financial burden," de Four says.
In fact, Gov. Rick Snyder cited economic benefits as part of his rationale for talking with federal officials earlier this fall about having additional refugees resettled in Michigan. Snyder argued that many refugees, people like Alrashdan, have marketable skills or experience running their own small businesses that could be a boon for local economies. Detroit Mayor Mike Duggan has also pledged his support.
But in the aftermath of the Paris bombings last month, Snyder called upon the federal government to pause resettlement initiatives while the United States re-examines its security procedures. Governors from 30 more states followed suit. Scores of local, statewide, and federal leaders and candidates expressed similar concerns over safety. Resettlement agency officials and advocates say the vetting process is already thorough and any pause only endangers those trying to flee extreme violence and poverty.
"Our families have nothing to do with ISIS," says Basha, adding that the Syrians now arriving in the United States left their home country before ISIS was even in the picture. The process for attaining refugee status can take two years or longer and is conducted before the applicant enters the United States.
For Basha, her volunteers, and the Syrian refugees she now works with, this is a time of both joy and uncertainty. Joy, because dozens of refugees have found safety and opportunity and a chance to start anew. Uncertainty, because the polarized political climate puts their work in a state of limbo, including efforts to reunite refugees with family members still struggling to leave their war-torn homeland.
One of Alrashdan's daughters is still there. Some of his other children are in Jordan. And yet, like the Syrian friends he has met since arriving in Hamtramck, he remains positive.
His friend, Thaer Hoshan, who escaped from Syria with his wife and five children, says the United States has given him everything he would ever want, mainly a sense of security, schools for his children, and a job that allows him to put his skills in home renovation to work.
"This is truthfully the country of human rights," says Hoshan, his shirt covered in flecks of paint and drywall dust, matching his short salt-and-pepper beard. "We're just mere refugees, and people have treated us with such kindness."
Where he once feared for his children's future, he now has hope. He beams when he shares the news that his wife is pregnant.
"The baby will be our first American."