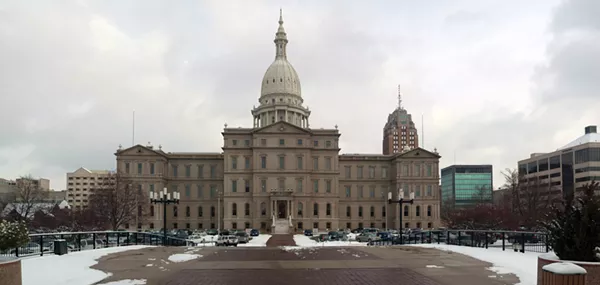 Michigan Republicans are now floating a bill that would make popular citizen-led ballot initiatives nearly impossible.
HB 6595
— introduced last week by state Rep. James Lower, R-Cedar Lake — comes after the success in 2018 of five citizen-led ballot initiative ballots. That included Proposal 1, marijuana decriminalization; Proposal 2, a voting access expansion; and Proposal 3 independent redistricting commission to address gerrymandering, or rigged elections. Michigan residents also signed around 400,000 signatures each for initiatives to raise the minimum wage to $12 per hour and mandate paid sick time. But Republicans were able to keep those off the Novemeber ballot by making those law, then voted to gut them in lame duck.
The new law would invalidate signatures gathered by a petition circulator who was found to "provide any fraudulent information."
The law would also require circulators to prominently display if they are paid or are a volunteer.
Democratic state Rep. Yousef Rabhi tells
Metro Times
that he hopes "that the law will be challenged [in court]."
"There is probably grounds to challenge as it's severely limiting the constitutional right of citizens to petition their government," he said.
Mark Brewer, a former head of the state's Democratic party, told the
Detroit Free Press
that Republicans are "essentially trying to take away the right of the initiative."
"You're going to disqualify signatures because of something that the petition circulator did or didn't do. It just puts more obstacles into place," he said.
The state House is likely to vote on the measure on Wednesday.
Republicans are only able to ram through legislation in lame duck because they gerrymandered the state's legislative districts in 2010. Though the party has lost the popular vote in the state Senate and state House multiple times in recent elections, it continues to hold a wide majority in both legislative chambers.
The GOP lost the popular vote in the state House in 2014 and 2018, and only won by 3,000 votes in 2016. Still, Republicans currently hold a 63-47 advantage, so there's little the Democratic minority can do stop them during lame duck.
Stay on top of Detroit news and views. Sign up for our weekly issue newsletter delivered each Wednesday.