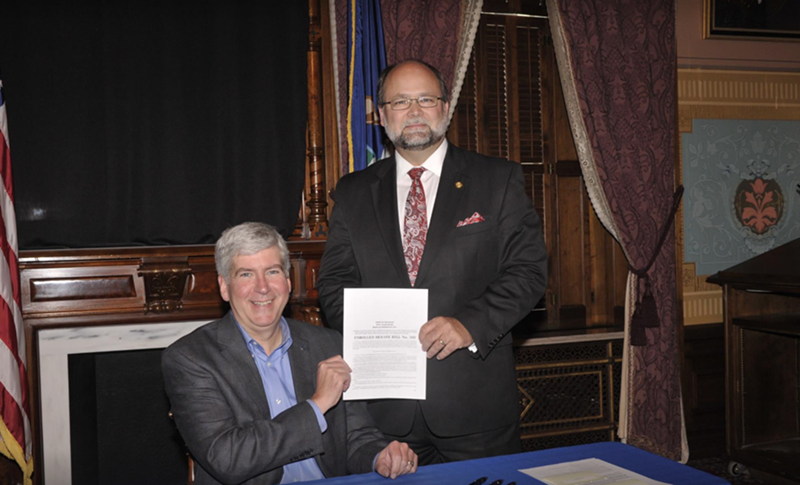 Michigan's Republican senators receive nearly twice as much money as Democrats to operate their offices, and Republicans get funding for up to five aides while Dems only get enough for three.
State senators receive about the same salaries — the funding in question is strictly for the operation of each senator's office. Several sources said the Republicans' central staff also receives more funding and resources than Dems' central office.
How did this happen? It should come as little surprise that Republican state Senate leadership is behind the disparity.
Incoming sate Sen. Jeff Irwin, who will represent a district in and around Ann Arbor, posted the funding breakdown on the Jeff Irwin for Senate
Facebook page
:
At Senate orientation, preparing my office to serve the people of my district. I've learned that Republican members receive almost double the resources to serve their districts.

GOP members: $212,700 + 4 staff benefit packages
Dem members: $129,700 + 2 staff benefit packages
The funding gap impacts the level of service received by all residents living in districts represented by Democratic senators. Irwin tells
Metro Times
that his office isn't just busy debating Republicans over policy. It's there to help Republican, Democrat, and independent constituents with matters that relate to health, mental health, taxes, and other issues for which they need help.
"I know to some extent parties are at odds and we're fighting over policy, but we all want to serve our constituents well," Irwin says. "All those kind of things that we do in addition to the policy work is important to constituents."
Of course, that's likely the GOP's plan — if one isn't happy with their representation, then they'll vote out that senator.
It's also worth noting the racial consequences. With the vast majority of Michigan's roughly 1.5 million black residents currently or set-to-be represented by Democratic senators, the funding gap disproportionately impacts African Americans.
Irwin writes on Facebook that he feels a small advantage for the majority is "justifiable," but "almost doubling the staff for the majority pushes the idea way too far."
A source in the state House tells
Metro Times
that House Dems received $99,000 last legislative session, while House Republicans received $102,000. Each party in the House receives funding for two aide benefit packages.
Each legislative session's Senate majority leader makes the call on senators' budgets, and last legislative session, Sen. Arlan Meekhof set it, while Sen. Mike Shirkey will make the decision for the next legislative session.
"Apparently, this allocation is what the last majority leader, Sen. Meekhof, thought was fair," Irwin wrote, adding, "It can be changed by persuading that leader — now Sen. Shirkey — to make a different allocation."
Irwin, a former state representative, tells
Metro Times
he had good experiences working with Shirkey on bipartisan deals while he and Shirkey were in the state House, so he's hopeful that the Senate Dems will receive more funding.
"I think theres a good chance he's a leader who might rectify the rather dramatic imbalance," Irwin says.
Shirkey didn't respond to
Metro Times
' requests for comment.
We asked Mark Brewer, an attorney and former chair of the Michigan Democratic Party, whether the situation warrants a lawsuit. He said he hasn't explored the idea, nor has anyone asked him to, but he called the disparity "pure partisan vindictiveness."
"It's an abuse — each of these senators, regardless of party, has the same number of constituents, so there's no justification other than partisanship for not having equal number of staff," Brewer says.
Stay on top of Detroit news and views. Sign up for our weekly issue newsletter delivered each Wednesday.