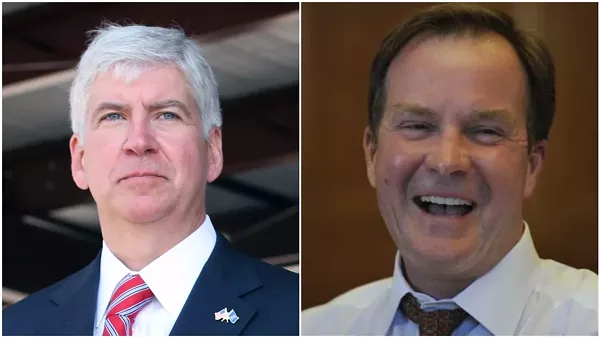 Governor Rick Snyder's apparent disdain for Attorney General Bill Schuette seems to have reached a tipping point.
In the days following Schuette's gubernatorial primary win, Snyder has so far failed to endorse the Republican nominee and on Wednesday skipped a rally in which Republicans aimed to present a united front going into the general election.
On stage at the event in Grand Rapids were each of Schuette's opponents, including Lieutenant Governor Brian Calley. Vice President Mike Pence was also there. Snyder's office said he was busy.
Earlier that day, Snyder sidestepped questions as to whether he would endorse Schuette, issuing a vague statement about how he's willing to cooperate with whoever is elected.
"I am committed to working with the next administration to maintain the new normal of balanced budgets, fiscal responsibility and important investments in education and infrastructure," Snyder said. "We have come so far so fast, but now is not the time to be complacent or risk slipping backward."
Why the beef? Well, for starters, Schuette went hard on Snyder's crew regarding the Flint poison crisis, slapping former Health and Human Services director Nick Lyons and chief medical officer Eden Wells with involuntary manslaughter charges.
Schuette also recently came out
against Snyder's decision to discontinue free bottled water service to Flint
, even though he
didn't do anything about it
.
Snyder's missing endorsement isn't his first clap back on the attorney general. As Calley ran an increasingly negative campaign against Schuette, Snyder at times appeared to lend credence to some of the claims made by his number two. When Calley accused Schuette of using office staff to notarize personal real estate documents, for example, Snyder responded by saying the allegations were a "serious matter" that the
FBI should investigate
.
The ungentlemanly behavior from a mild-mannered man known for
preaching civility
is indicative of just how much Snyder dislikes Schuette, says political analyst Bill Ballenger.
"They just increasingly have not gotten along, and it's to the point where I honestly think a lot of the negative tone Calley's campaign took about Schuette almost reflected Snyder's feeling about Schuette," Ballenger says.
But while Snyder's quiet disses are certainly entertaining, Ballenger says they're not likely to have much of an effect on whether or not Schuette gets elected.
"Snyder has never been very closely connected with the Republican grassroots energy in the party," he says. "He does not have that much influence on getting Republicans to turn out to vote or to go into an election campaign with tremendous enthusiasm."
Too bad, really.
Stay on top of Detroit news and views. Sign up for our weekly issue
newsletter
delivered each Wednesday.