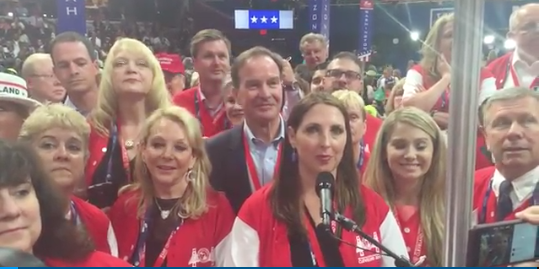 If you're anything like us, you may be avoiding the evening news this week. The Republican National Convention is in full swing, and frankly the speeches and
memes
(yes memes) coming out of this spectacle can be, well,
depressing
overwhelming.
But because we're dedicated to you dear readers, we will fill you in on one particularly odd — and yes, Michigan centric — moment from last night, the big night when Donald Trump officially became the GOP's candidate for president.
As each state's delegates approached the mic to share out their votes, Michigan was bypassed. Why? Well, apparently the Trump camp requested the Mitten step aside so that New York — Trump's splashy home base — could be the one to officially get Trump to the target goal necessary to secure the nomination. While Michigan did step aside, it wasn't without some resignations.
You see, Michigan Republican Party Chair Ronna Romney McDaniel didn't understand that other states had been asked to pass as well, and therefore not only took the request as a personal affront on Michigan, but her family name as well.
"They're doing every other state but us ... it feels like a Romney thing," the
Detroit Free Press
is reporting Romney McDaniels, the niece of 2012 Republican presidential candidate Mitt Romney, said.
While her uncle has notably refused to endorse Trump, Romney McDaniels is all in, as is clear by the sheer giddiness she exudes when, eventually, announcing Michigan's support for Trump.
"My names is Ronna Romney McDaniel. Chairman of the Michigan Republican Party. Michigan is America's comeback state. And the birthplace of the Republican party," she announced, beaming from the RNC floor. "We are so glad to be in Ohio, that we were willing to wear Ohio State's colors just for today. We are the home of President Gerald R. Ford, the home of the late and extremely great Mr. Hockey Gordie Howe. From Mackinac to Motown, from the to UP to the Big 3, we cast 2 votes for John Kasich, 6 votes for Ted Cruz and 51 votes for the next president of the United States Donald Trump."
Check out the Freep's
video
below and delight in how excited these delegates got about their moment in the spotlight. Ugh, it's gonna be a long three months.