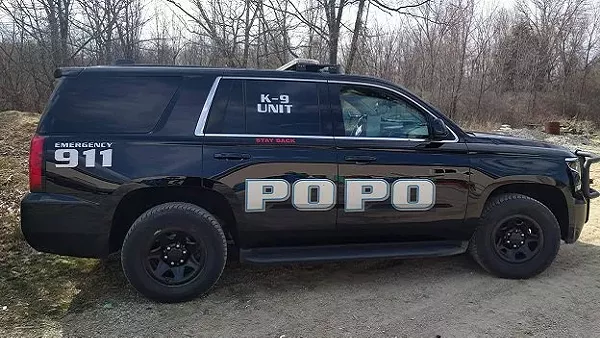 Against a backdrop of increasingly fraught tensions between law enforcement and some communities in recent years, a number of Michigan agencies appear to be willing to do just about anything to be liked — or faved, or double-tapped, or retweeted.
The latest: Officers in Shelby Township are promising to do "Carpool Karaoke" if the department's official twitter gets 5,000 followers by Friday.
FOLLOW @ShelbyTwp911!! 5000 followers by FRIDAY and we'll do carpool karaoke!! pic.twitter.com/8mLWAiRbGl

— Officer Jake Lukas (@officerjlukas) May 7, 2018
It appears to be working.
Woohhhhh, halfway there....... !!! Officer Leslie and Officer Jake have a message about #PoliceCarKaraoke pic.twitter.com/hVGYcDEcAu

— Shelby Twp PD (@ShelbyTwp911) May 8, 2018
In April, police in Bath Township
posted a photo
of one of their squad cars with the word "Popo" emblazoned on its side, "in an attempt to be more relatable to the local youths." (The department
later admitted it was a joke
, and said they doctored the image in Microsoft Paint. We will just say that the department has quite a talented MS Paint artist on its hands.)
And
that
stunt follows others: In March, Troy police said they would adopt a the "first-ever" police cat in their newly instated "Feline Unit" if they got 10,000 followers by the end of the month, launching the hashtag #WeWantAPoliceCat. (The department officially revealed its new recruit
in a press conference
that was attended by just about every major media outlet in metro Detroit. Per a press release in our inbox today, "Pawfficer Badges" will be sworn in by two actual Troy judges Friday, an event the media was invited to attend.)
Of course, there's a practical motive for the police department's thirst for clicks beyond just the desire to be liked. Police departments can use social media to send alerts about missing people, seek tips to catch criminals, or help people avoid crime scenes or bad traffic.
A 2016
survey
from the International Association of Chiefs of Police and the Urban Institute says 91 percent of departments use it to notify the public of safety concerns, 89 percent use the technology for community outreach and citizen engagement, and 86 percent use it for public relations and reputation
management.
But not every social media gag is always going to land, and if it seems like sometimes the police are reenacting the
"how do you do, fellow kids?" meme
, well, there's a reason for that.
"Some of the greatest barriers faced by agencies using social media are adapting to new trends, measuring the impact of their use of technology, and training personnel to use social media effectively," the survey noted.
Stay on top of Detroit news and views. Sign up for our weekly issue newsletter delivered each Wednesday.