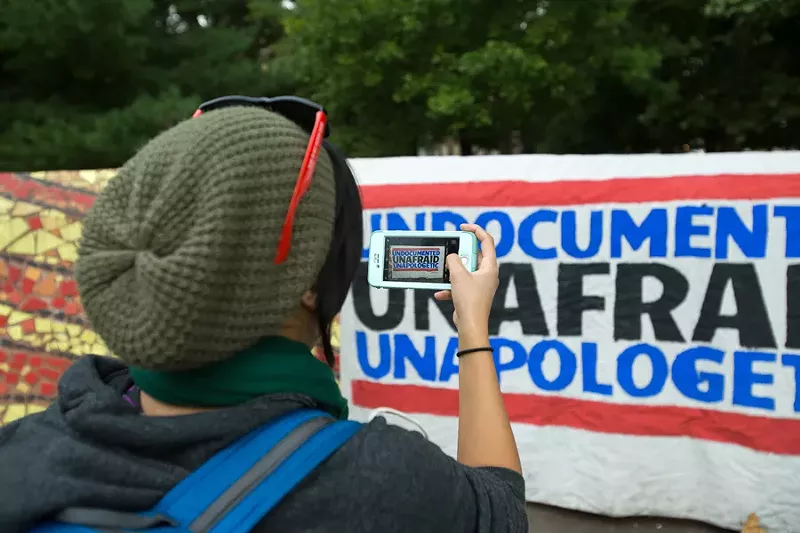 Juan Gonzalez arrived in the United States when he was just a 1-year-old, and grew up enveloped in this country's star-spangled security blanket of ideals — that people can rise above any circumstance and find success, if they're only willing to work for it.
It was a promise that Dreamers like Gonzalez could see, but never truly seize. Even if individuals like Gonzalez learned the Pledge of Allegiance at American schools and worked for the American dollar, they were not considered Americans.
Gonzalez was a junior in high school when he tried to enlist in the Marines, and a recruiter told him he would likely be deported after his service.
"It really messed me up you know? The fact that I'm willing to give my life for this country, and that's just not enough," he says. "I believe in America. Land of opportunities, it was built by immigrants, and I was raised here. I love this country… This is my home."
When the renewable two-year pass called Deferred Action for Childhood Arrivals was established in 2012 by President Barack Obama's administration, young people brought to America under the age of 16 were protected from deportation, given social security numbers, and made eligible for work permits. This often opened the door to financing higher education, and legally afforded these Dreamers the right to bootstraps they could pull themselves up by.
Except, five years later, 800,000 DACA recipients now face the looming prospect of getting sent back to a home they no longer know, following President Donald Trump administration's announcement of a program repeal on Sept. 5.
New DACA applications will no longer be accepted, but a tiny window remains for Dreamers whose status expires between Sept. 5 and March 5. U.S. Citizenship and Immigration Services will accept DACA renewal requests until Oct. 5 — giving eligible individuals another two years.
Trump gave Congress six months to pass a replacement before DACA protections are phased out, but many universities and colleges across the country have already responded.
Twenty-eight public and private collegiate institutions in Michigan have published statements or letters online, publically supporting DACA and effectively standing with their students.
That includes Gonzalez's campus. Now a 24-year-old pre-law student at Wayne State University, Gonzalez is studying sociology with aspirations of one day becoming an immigration lawyer.
And WSU,
among the 15 public Michigan universities
who wrote to Senator Debbie Stabenow on Sept. 7 calling for Congressional action to keep DACA recipients in the U.S., has pledged to continue providing education to students.
Dreams deferred
Gonzalez says his father had been in the United States on a work visa, sending money back to Mexico to support a wife and daughter, but it was when he returned to renew his papers that Gonzalez was born.
A choice had to be made. Stay in Mexico with meager prospects or separate and see his baby boy three to four years later — missing his first steps and every new word.
"That's when he brought us over to America," Gonzalez says. "We were just children."
The week Trump made his DACA repeal announcement, Gonzalez joined a Michigan United hunger strike in solidarity with United We Dream, who was hosting a larger event in Washington D.C.
"All of [the undocumented immigrants] that are here, they're here for a reason. They all came to feed their families, they all came out of necessity," he says. "I learned what real hunger is. I know why people go somewhere else to get food. It's because they don't want their kids to go through that kind of hunger. That's why they do what they do."
Growing up, Gonzalez says his immigration status was incredibly difficult to navigate around. When he was a high schooler seeking his first job, he was fired on his second day as a dishwasher, because he could not provide a social security number.
"My parents always taught me, just go to school. Do what you have to do, and we'll figure it out as we go," he says. "I was obviously frustrated, and in tears I broke down driving home, but I picked myself up and I looked for any other opportunities and ways for me to get my own status, myself."
Gonzalez went on to spend two years as a part-time student at the University of Michigan-Dearborn, but left school to work.
It was DACA that allowed him to get a work permit, which gave him access to better positions and enough money to finish his degree.
Yet, with the program in danger, Gonzalez said his worst fear isn't losing his job. It's losing his family. Gonzalez has three younger siblings who are U.S. citizens he worries could be left behind.
"Without DACA, you really can't do much. You go back to living in the shadows," he says. "All the economic stuff, that can be rebuilt. You can work hard and bring yourself back up to any point that you were, but I'd be in danger of being separated from my family — that's probably the most heartbreaking."
Going forward, Gonzalez says his game plan remains the same: finish his degree, go to law school, and continue fighting for his goals.
"I don't base my game plan around the fact that I'm going to lose something," he says. "I got my game plan in place in order to gain things, in order to help people … I'm not going to plan to not go to school."
Record-keeping and risks
In a campus-wide message that appeared in the inboxes of all students and faculty on the day of Trump's announcement, WSU President M. Roy Wilson joined higher education leaders across the state, in assuring DACA students they would continue to have access to an education.
"We continue to protect student privacy and do not share private information unless required by law," Wilson wrote. "Similarly, we do not require students to disclose their immigration status. Our decision to support the continuation of DACA is entirely consistent with our commitment to being a welcoming and inclusive community where people from all backgrounds can learn and grow together."
No WSU policies require DACA as a measure of whether or not a student can or cannot attend, says vice president and general counsel for WSU, Louis Lessem.
"Whether DACA exists or not, whether it is phased out or not, will have no bearing on these individuals' status as students," he says. "DACA participation is not a criterion of admission or enrollment."
WSU administration does not know which students are recipients, Lessem says, because the university has had no need to collect that information.
"The university could not provide a list of which students have DACA status, because such a list isn't kept," he says.
Lessem says WSU will continue providing education to students, regardless of immigration status.
"If DACA is repealed … it will not change what we do," he says. "We will continue to provide education to students."
Yet, there are risks Dreamers face that remain outside of universities' control.
Students who applied for DACA, have already given information about themselves and their family to the federal government, including birth certificates, rent and utility bills, fingerprints, information about family members, current home or workplace addresses, and cell phone numbers.
In order to receive DACA,
according to U.S. Citizenship and Immigration Services guidelines
, recipients had to prove they:
were under 31, had no lawful status, were physically present in the U.S. as of June 15, 2012 and at the time of their request

came to the U.S. before their 16th birthday

have lived in the U.S. since 2007

have not been convicted of a felony significant misdemeanor or three/more other misdemeanors

were currently in school, have graduated/obtained a diploma from high school, have obtained a general education development (GED) certificate or were an honorably discharged veteran of the Coast Guard or Armed Forces of the U.S.
A stipulation on the U.S. Citizenship and Immigration Services DACA application explicitly states, "Information provided in a DACA request is protected from disclosure to ICE and CBP for the purpose of immigration enforcement proceedings."
But following the Trump administration's repeal announcement, whether or not that information can now be shared with immigration law enforcement is unclear.
However,
the Department of Homeland Security has indicated
immigrants who grew up in the U.S. and do not have a criminal record are low priority cases.
"If they truly proceed against DACA students starting in March, a lot of people will be terribly hurt and that will have terrible damage to our students, because of the risk to their families," Lessem says.
The extent
With a repeal, it is possible students will face deportation. but Sabrina Balgamwalla, assistant clinical professor at WSU Law School and director of the Asylum & Immigration Law Clinic, says the process is not immediate. People are still entitled to court hearings, there are opportunities to retain counsel — and the process takes a very long time.
"Our courts are already backlogged," she says. "I can't get someone an individual hearing date until 2020."
As of August 2017,
there are 632,261 cases in the U.S. immigration court backlog
still pending (4,329 of those cases from Michigan), according to Transactional Records Access Clearinghouse (TRAC), a nonpartisan data gathering and research organization operating out of Syracuse University in New York.
DACA students who fear a great chance of danger if they return to their country of origin can also apply for a form of immigration relief called withholding of removal, Balgamwalla says, and there's also eligibility for release through a family member, spouse, or employer.
"There are 800,000 people with DACA or something like this, and the United States has the ability to remove 4 percent [of the 11 million unauthorized immigrants in the country]," she says. "Unless the budget completely changes, such that we're spending all of our money on removing people from the U.S., numbers wise, it's not possible for everybody who had DACA to be rounded up and removed."
Some state and local law enforcement participate in the
287(g) program
, and share biometric information (fingerprints, retinal scans, etc.) with Immigration and Customs Enforcement, Balgamwalla says, but many university police departments have declined to participate.
To his knowledge, Lessem says WSUPD does not participate in 287(g) and their officers do not routinely ask about citizenship or immigration if someone is stopped or pulled over.
Detroit Police Department Chief James Craig told over 150 Southwest residents they never ask about immigration, but if someone is booked for a felony and their fingerprints are entered in the national fingerprint database, ICE can access that information,
as MLive reported in March
.
However, Lessem says students should feel safe on campus, without worry of immigration law enforcement arriving unexpectedly.
"Current law treats universities as what are called 'sensitive locations,' raids are not supposed to happen at universities, and that has not been changed, even by anything that has happened thus far," he says.
If a DACA student is picked up, it is possible he or she will be held in custody, but if they are not, Lessem says they could continue to attend school if they are able.
"The one piece we can control is an individual's entitlement to an education. That we do control," he says. "That will not change at Wayne State University and at some other universities, which do not base their policies on whether or not the individual happens to have DACA status."
Aleanna Siacon is a
Metro Times
intern and Wayne State University journalism student.


Has your campus responded to the DACA repeal?
Twenty-eight public and private universities, marked in green on
Metro Times
'
interactive map
, have posted statements or shared letters online voicing their continued support of DACA students.
Find the universities DACA response hyperlinked if it is available, as well as contact information for all mapped institutions.
View Michigan Universities respond to DACA repeal in a full screen map