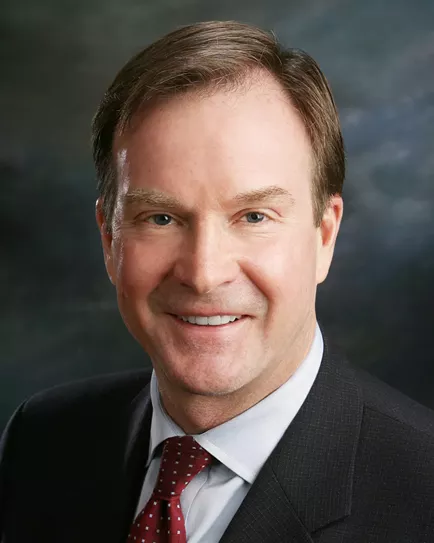 Update 6:00 p.m., Mon. March 9, 2015: This story has since been updated to include remarks from Michigan Attorney General Bill Schuette's office and Michigan Public Radio.
Michigan Attorney General Bill Schuette has withdrawn two subpoenas his office served a Huffington Post reporter, seeking copies of notes and records on interviews she conducted with inmates inside two state prisons.
Schuette's office also on Monday withdrew a third subpoena served to Michigan Radio for all records related to an interview conducted by Cynthia Canty of the public radio station's program
"Stateside"
with an attorney — one who represents nearly a dozen juvenile inmates in a lawsuit filed against the Michigan Department of Corrections.
In light of media reports and a blitz of criticism on social media after Dana Liebelson, a political reporter with HuffPo, said Monday morning on Twitter
that she was hit with two subpoenas
"during a reporting trip on juvenile prison conditions," Schuette's office relented and announced the subpoenas would be withdrawn.
"In doing the Department's job of defending the State of Michigan from lawsuits, a civil service attorney followed a common legal procedure of subpoenaing information from individuals entering Michigan prisons to speak to prisoners who are suing state taxpayers," said Schuette spokesperson Andrea Bitely, in a statement. "However, after further review Attorney General Schuette has determined that information necessary to defending the State of Michigan can be obtained in other ways and will direct Department attorneys to withdraw the subpoenas."
One subpoena — which Liebelson
posted on Twitter
— asked for "complete and unedited" copies of all her notes related to interviews she conducted last week. Liebelson
said
she had permission to visit two prisons, but was not allowed to bring a recording device.
The document demanded she make the notes available to Mark Donnelly, assistant attorney general for Michigan, who represents MDOC in a
class-action lawsuit filed by 11 unnamed juvenile inmates
. The inmates allege they were
sexually abused behind bars
by adult prisoners and staff.
"I followed all rules and regulations required by the prisons,"
Liebelson wrote
. "I do not understand why Michigan is interfering with my reporting process."
Reached by email Monday morning, Liebelson declined to comment about the details of her interactions with Schuette's office, telling
MT
she'll explain more once her story runs in the next couple of weeks. In an interview with The Washington Post's Erik Wemple, Liebelson said
she was pulled from an interview with an inmate by David Dwyre
, a special agent with Schuette's criminal division.
A rep for Michigan's AG followed me 2 hours across the state to deliver the second subpoena. It was intimidating. pic.twitter.com/PawyZgXj0a

— Dana Liebelson (@dliebelson) March 9, 2015
"Dwyre presented Liebelson with a subpoena and asked her to sign an acknowledgement form, which Liebelson initially declined to do," Wemple wrote. "After Dwyre said that he'd make note of her refusal, she signed the form." When Liebelson traveled to another state prison the following day, Dwyre met her there with an additional subpoena, Wemple wrote.
As Liebelson
described on Twitter
, "A rep for Michigan's AG followed me 2 hours across the state to deliver the second subpoena. It was intimidating." She wrote
she plans
"on going forward with my story."
Ann Arbor-based attorney Deborah LaBelle, who represents the unnamed inmates in the current lawsuit against MDOC, said Liebelson's first interview in Ionia was interrupted about halfway through so Dwyre could serve her the subpoena. "I think that was very intimating," she told
MT
by phone.
Liebelson was served the second subpoena before the second interview began in Lapeer, said LaBelle, who represented a number of female inmates in a previous lawsuit filed against MDOC, which ended in 2009
with a $100 million settlement
.
"I've never seen anything like that," she said.
Michigan Radio was also served a subpoena Monday for "all outtakes, interview notes, and recordings" of an interview with LaBelle on Canty's "Stateside" about the current case against MDOC," LaBelle said. That has since been withdrawn, spokesperson Bitely told
MT
by email.
Vincent Duffy, news director for Michigan Radio, said the public radio station had a meeting scheduled Tuesday morning with legal counsel to "discuss our response, but the subpoena was withdrawn this afternoon."
"This is the first time I've ever seen a subpoena delivered and withdrawn in the same day," he said by email.
Chris Gautz, spokesperson for MDOC, told
MT
that Liebelson received clearance to interview two inmates last Thursday at the Michigan Reformatory Prison in Ionia, and an additional inmate on Friday at the Thumb Correctional Facility in Lapeer.
MDOC commonly allows reporters to interview inmates, said Gautz, who added he receives such requests almost daily. Reporters cannot bring audio or video recording devices.
"Prisoners have every right to talk with reporters, just as they would with family and friends," Gautz said. The majority of interviews are conducted in the same room where family and friends can visit inmates, though Liebelson's meeting with the inmate in Lapeer took place in a private room.
Prior to Schuette's decision to withdraw, Ryan Grim, the Huffington Post's Washington bureau chief, told
MT
the outlet would fight the attorney general's unusual decision to subpoena a reporter.
"That pretty much covers it," Grim said by email. "We're not turning over notes of interviews with children."