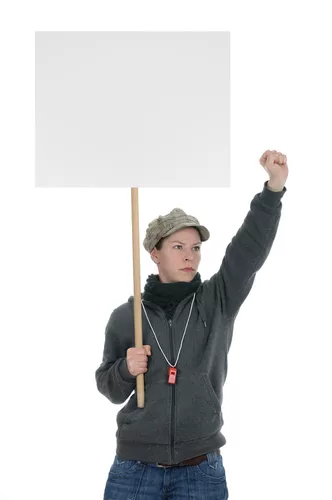 Tom McMillin, the anti-gay Rochester Hills legislator forever running for office, introduced a bill last year that he reportedly said would "help provide a stable economy while giving job providers some recourse to stop [one] type of disruptive act."
The act McMillin says is disruptive to our economy? Picketing.
House Bill 4643, sponsored by McMillin, would increase fines for protesters violating current picketing laws to $1,000 a day for individuals, and $10,000 a day for organizations sponsoring pickets, such as unions.
That's right. McMillin's solution to our fickle economy is to impose tougher penalties on a law already on the books. He first introduced the bill in 2011, but it was shot down by the House. Tommy doesn't like to give up on his anti-union aspirations, though. After reintroducing the bill last April, the House, ever so bent to the right, seems to have taken a liking to McMillin's idea. Last month, the bill was given a final reading and will now be taken up by the full House for a vote.
Now, we at the Hits thought McMillin — who, Bridge magazine recently points out, enjoys sponsoring a boatload of bills that go nowhere — must have some reasoning for introducing legislation that, on the surface, seems to be only a potshot at unions. Certainly there had to be some sort of mass demonstration that slipped by our bookish eyes that pissed off ol' Tommy enough to push this bill.
As it turns out, McMillin and the bill's supporters, including the Michigan Chamber of Commerce, have absolutely no idea why they're pushing the legislation.
"There's certainly no examples that they cite of recent illegal pickets that would give rise to a response like this," Rep. Jim Townsend, D-Royal Oak, tells the Hits.
Townsend's remark is supported by testimony on the anti-picketing bill given last year to the House Oversight Committee he sits on. As reported by the Lansing State Journal, when Wendy Block of the Michigan Chamber of Commerce was pressed by the panel for specific examples of some employers who faced illegal picketers that necessitated a court injunction, she delivered nothing.
Backpedaling, Block told the panel, "Our concern is it very likely could."
As far as we can tell, we could find no examples in which this bill would have addressed anything at all. It really is a solution in search of a problem.
Last month, Townsend, a vocal opponent of the bill, offered an amendment that would strip language that provides employers the right to seek a preliminary injunction from circuit court — without having to demonstrate irreparable harm. It failed miserably.
So, if a local union facing potential wage cuts decides to picket, and management feels that demonstration harmed business, McMillin's bill would empower the employer to seek court relief through a sort-of expedited judicial process, Townsend explains.
"Preliminary injunction is a special tool, you know, it's not something that law allows to happen lightly," he says. "It's a case somebody can just walk into court, file a paper, and … say these people are violating the laws governing picketing. But there has not been a full process of discovery and trial, there has not been a deep and thorough fact-finding; there's just somebody's assertion that laws are being violated.
"If the judge is at all persuaded, then the court is required under this bill to issue this injunction. And once the injunction has been issued, the organization … doing the picketing could be fined $10,000 a day."
We reached out to McMillin for comment to get his take, but he didn't return our requests by press time. Regardless, Townsend says, with a high unemployment rate, the legislature should be focused on fixing the state's flagging economy instead of solving nonexistent issues.
And the cherry atop this mess of a bill, Townsend says, is that this seemingly blatant jab at First Amendment rights is coming from McMillin, a supposedly staunch supporter of the U.S. Constitution.
"It's particularly ironic that [the anti-picketing bill] is coming from a member of the legislature who is a self-styled champion of the Constitution," Townsend adds. "The irony there, I think, is pretty palpable."