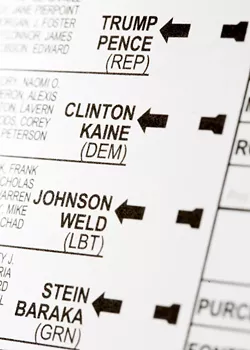 Michigan's recount of the state's presidential election results commenced at noon on Monday, following a late-night ruling by a federal judge.
In a rare Sunday hearing, U.S. District Court Judge Mark Goldsmith ruled in the favor of Green Party candidate Jill Stein, who requested the recount, allowing the massive effort to begin Monday instead of Wednesday.
The jumpstart left Michigan clerks scrambling to hand-count some 4.8 million ballots by Dec. 13.
Stein, who finished in fourth place with less than 1.1 percent of the vote,
has requested recounts
in key battleground states Michigan, Wisconsin, and Pennsylvania amid
concerns that the election could have been hacked
. In Michigan, Trump defeated Hillary Clinton by just 10,704 votes — the most narrow margin for a presidential election in the state's history. (84,290 ballots did not have a recorded vote in the presidential election, an increase of 80 percent from 2012.)
Attorney General Bill Schuette and other Michigan Republicans have attempted to stop the recount, calling recount a waste of taxpayer money. Trump has called Stein's effort "a scam" meant to fill the Green Party's coffers.
But Goldsmith ruled in favor of Stein, writing "Without elections that are conducted fairly – and perceived to be fairly conducted – public confidence in our political institutions will swiftly erode."
According to The Detroit News
, the Stein campaign says it has recruited hundreds of volunteers to help in the recount effort. However, Southfield attorney Mark Brewer, who is representing the campaign in Michigan, admitted it was "highly doubtful" that the recount could be completed by the deadline.