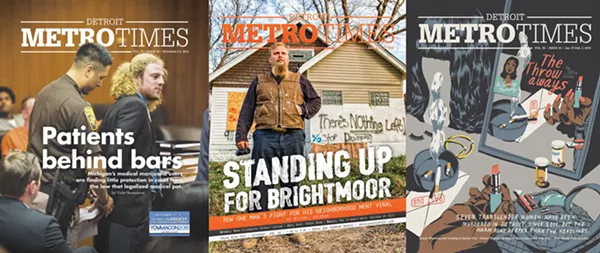 Your favorite alt weekly (us) was well-represented at the annual Society of Professional Journalists awards Detroit chapter ceremony on Wednesday night, competing against the dailies, radio, and other outlets.
The highest honors went to our longtime
Politics & Prejudices
columnist Jack Lessenberry, who earned a lifetime achievement award alongside WDIV-TV's Carmen Harlan. As Lessenberry
noted this week
, his first column appeared in the pages of
Metro Times
24 years ago. He's written 1,167 columns so far, and we're looking forward to many more.
Senior editor Michael Jackman's
"Standing up for Brightmoor"
won first place for a Personality Profile. Enterprise reporter Violet Ikonomova's
"Patients behind bars"
won third place for Investigative Reporting, and former dining editor Serena Maria Daniels earned second place, Feature Story for
"How Mexico's national dish is feeding Detroit's dining scene."

Meanwhile, former investigative reporter Allie Gross took home three awards for her work with
MT
.
"Lawmakers deciding the future of Detroit schools accepted thousands from pro-charter DeVos family"
earned first place for Consumer/Watchdog Reporting. Her cover story
"The Throwaways"
about violence against transgender women earned third place for Best Localization of a National Story, and her work on the
Flint water crisis
earned an honorable mention in the Blogging category. (She also earned first place, Feature Story for a long-form piece for
VICE News
about the school choice disaster in Detroit.)
As for me, I won a couple of awards from my brief stint at
Hour Detroit
magazine: first place, Explanatory Story for
"A new day for DPS?"
and first place, Feature Story as part of a group effort,
"Ode to Michigan food."
Thanks for reading!