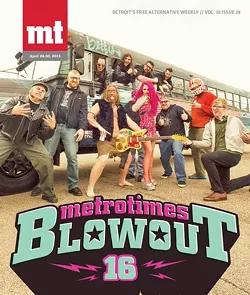 It's that time of year: when some of the most talented performers in Detroit music descend on our metropolitan streets to take the stage at various venues and rock us silly. But this year it's bigger, longer and better than ever. So we put together a few choice profiles of some of the bands that will rock Hamtramck this weekend.
Oh-so-many words could introduce you to punk rock icon Tesco Vee – and most of them would offend you.
by Jeff Milo
Coming to Blowout, Sponge is primed to absorb some Detroit love.
by Brett Callwood
The Pipes AreCalling, Danny Boy
Danny Kroha and his posse get set to take the stage at Blowout on the eve of their debut release.
by Brett Callwood
Detroit's hip-hop scene, stagnant for several years, is resurgent.
by Jeff Milo
All the Wild Children frontman Paul Clos revels in his juvenile delinquency.
by Brett Callwood
Blowup Line-up