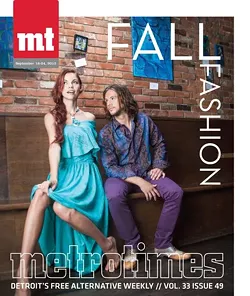 Dressing for a date? What to wear? In the 2013 Fall Fashion issue, two nice kids find their way to romance and fashion compatibility in a fashion photo fantasy shot by Mike Raffin of Mars Photo and Design at the Majestic Entertainment
complex.
Great fashion picks for him and her; interviews with local designers and more. Get hip this fall with MT.
Acknowledgements
MODELS: Mercy Whitney, Weston Arch
PHOTOGRAPHY: Michael Raffin of Mars Photography and Design; marsphotoanddesign.com
HAIR: Jenny Summa of Alex Emilio Salon
MAKE-UP: Cheryl Salinas-Tucker of Rouge Make-up
Clothing Outfitters
Dolce Moda | 505 S. Main St., Royal Oak; 248-399-6200
Global Detroit HUMAN | 4240 Cass Ave., Ste. 106, Detroit; 313-980-8047.
Vogue Vintage | 23622 Woodward Ave., Pleasant Ridge; 248-546-1555
Showtime | 5708 Woodward Ave., Detroit; 313 875-9280
Funky 7 | 411 S. Main St., Royal Oak;
248-398-6700
Incognito | 323 S. Main St., Royal Oak; 248-548-2980
Noir Leather | 124 W. Fourth St., Royal Oak; 248-541-3979
BluArch Collection | 142 W. Maple Rd., Birmingham; 248-792-9954
Deyo Studios | 576 N. Old Woodward Ave., Birmingham; 248-203-1222
BeadWorks | 32751 Franklin Rd., Franklin; 248-855-5230
We offer a very special thanks to David Zania of the Majestic Theatre complex, which is now celebrating the 100th anniversary of the Garden Bowl. An iconic Detroit entertainment venue, and an enduring favorite among Detroiters, the Garden Bowl, Majestic Theatre and the Magic Stick have been mainstays of the city's entertainment scene. An all-day celebration for the Garden Bowl on Sept. 28, 2013, will include a Big Lebowski & King Pin costume contest. Details can be found at majesticdetroit.com.