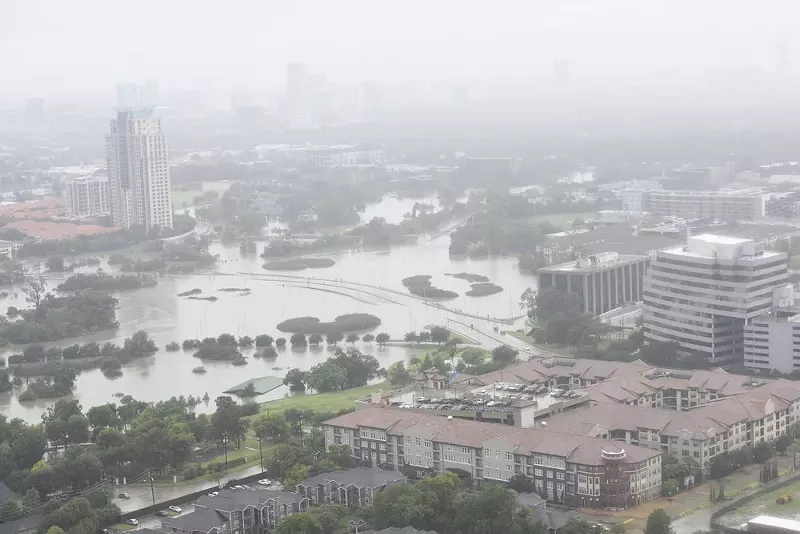 Sherrie Handrinos is currently stranded in Houston. The metro Detroit native owns her own public relations and marketing company, and splits her time between the two major cities. She was headed to the now-beleaguered Texas city for a work trip when meteorologists predicted Hurricane Harvey would produce a mere 5 to 8 inches of rain per day.
But as rainfall vastly exceeded forecasted levels, she found herself trapped inside her Houston condo, a high rise that's lucky enough to still have power.
Handrinos says her flight back to Detroit has been cancelled five times, but even if it were to get off the ground, she would have no way of getting to the airport. It's essentially impossible to drive anywhere in the city right now.
"This is real. You know how people say the media blows things out of proportion — they're not. This is real life," Handrinos says.
So, while she's trapped — and lucky enough to have food, water, and electricity — she says she felt she couldn't just sit around waiting for conditions to improve.
"I thought, 'I'm safe. I have enough food. I have water. I have to do something,'" she tells
Metro Times
.
To help Houston residents, many of whom left their homes with nothing more than the shirts of their backs, Handrinos is using her company, Boost 1 Marketing, to organize a relief effort to bring Hurricane Harvey victims backpacks filled with the personal items they desperately need.
The #Detroit2Houston Stuff-a-Semi event invites locals to bring a backpack filled with items like diapers, wipes, toiletries, feminine products, towels, sheets, gently used clothing, soap, and other items to Troy's AirTime Trampoline & Game Park where a local couple's semi truck will be stuffed and later driven to Texas.
"What would you want if you had to walk out of your house with nothing, not even your purse? I thought you'd at least want a bag. We're not looking for much food, just any personal item you can stuff into a bag," she says.
Handrinos says a local nonprofit called the Houston Relief Fund will distribute the items among victims. Because the Houston Relief Fun has also been affected by the hurricane and is currently seeking a new warehouse, it is likely that the truck will not arrive until next week.
As the
Federal Emergency Management Agency is predicting it will take years
to deal with the aftermath of Hurricane Harvey — and as much as
$40 billion dollars to do so
— it's likely survivors will be grateful for these backpack and personal items despite their somewhat delayed arrival.
The Stuff-a-Semi event will take place from 9 a.m. to 4 p.m. and families who donate at least five times will be given a full day of free airtime on Saturday, Handrinos says.
For those unable to make it out to Troy for the event, a
GoFundMe
page has been set up to receive monetary donations.
AirTime Trampoline & Game Park is located at 662 E. Big Beaver Rd., Troy.