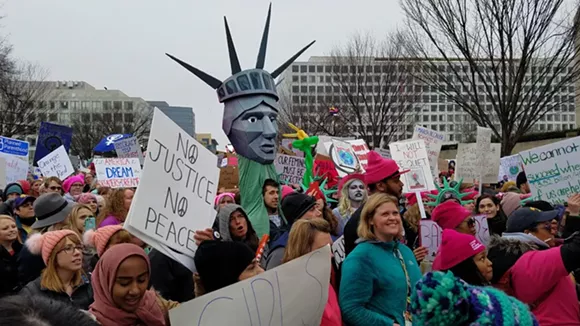 The hundreds of thousands of protesters who dominated the capitol during Saturday's Women's March on Washington, D.C. included 8,000 from Michigan and several busloads from metro Detroit. Many of them voiced the hope that this wasn't just an epic day of protest, but the start of a new era of resistance.
The day after President Donald Trump's inauguration, Washington, D.C. and other cities across the country and the globe flooded with marchers for women's rights and a host of other issues believed to be threatened by the newly sworn in President Donald Trump and the GOP.
Check out: 43 photos from the Women's March on Lansing
The crowd of mostly women marched for everything from reproductive freedom to immigration reform, condoms to climate change, LGBTQ rights to Black Lives Matter — and opposition to Trump.
"We have a president who does not represent the American population because most of us didn't vote for him," says Myaia Holmes, a Wayne State student and a member of the school's LGBTQ advocacy group who took part in the march.
Her message to Trump? "You have to show us over the next four years that you care."
The march swelled to more than the original route could handle. Demonstrators who had been standing shoulder to shoulder for hours during the opening rally were forced to reroute around blockages and form parallel marches to the White House.
The clogged streets of D.C. stretched out like a sea of pink confetti due to the ubiquitous knitted "pussy" hats that have become a sort of unofficial uniform for these protesters nationwide. The cat-eared hats are a play on both pussy cats and Trump's assertion he could grab unsuspecting women "by the pussy" in a leaked tape.
But these women were clear that they are not for grabs.
"Consent or conviction, that's my big one," says Michigan grassroots organizer Phoebe Hopps. "If someone sexually assaults someone, they should be convicted. It shouldn't be like Brock Turner."
Like much in the digital age, the Women's March on Washington began on social media. Its Facebook presence caught Hopps' attention, and the New York transplant and former Detroiter started a Michigan page.
She says she believes the amount of interest in the protest signals a new era for not only feminism, but post-election activism and government involvement.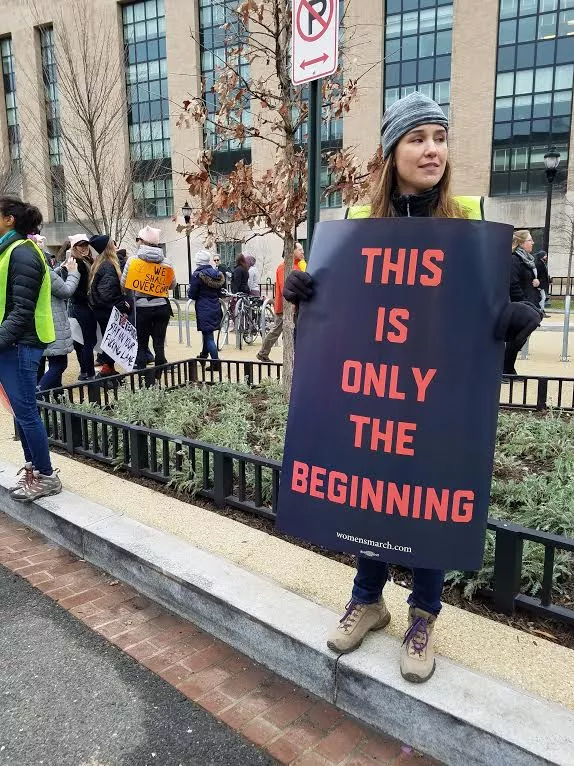 "We saw this phenomenal response," she says. "And it's more than Hillary, or anti-Trump, or Bernie, and it's not going to end after the 21st."
The march has not been without criticism. National organizers have worked to rectify what has been seen as a lack of support for and inclusion of marginalised women by reaching out to include more women of diverse racial and cultural backgrounds.
Detroit organizer Akilah Russell says she realized late last year that there was only one bus heading to D.C. from Detroit, and that she was one of two black people on the bus.
"It didn't seem right to me that so many were underrepresented," Russell says. So, she crowdsourced the money for a scholarship bus, which left from Greektown Casino for the march. At least one other Detroit bus was since added as well.
Triandis Crim, a Detroit social worker, says it was heartening to see people of different races holding signs for Black Lives Matter as they marched in D.C.
"I'm standing here with my sisters and my brothers," Crim says. "I'm hoping this will bring together more grassroots organizations. Not just one man, one person, but all of us taking a stand against any unfairness."
Whether the energy from the march will transform into an enduring movement remains to be seen, but that's clearly the hope.
For Hope Swann, 70, of Beverly Hills, the number of women at the march was indicative.
"It's mind blowing. It's incredible. It just shows how much the women in this country have been energized," Swann says. "We're not going to sit back and let this happen without resistance."
By the end of day, a long green fence in front of the White House had been festooned with retired protest signs while marchers continued to roar slogans of the day, including one aimed at the new President: "We won't go away! Welcome to your first day!"
A bystander looking at fence remarked that it might be the only wall Trump is likely to get.