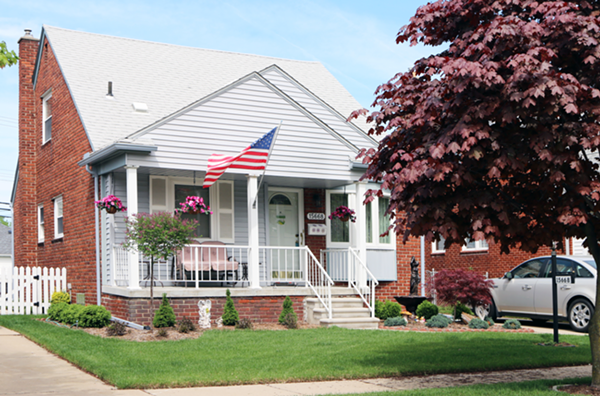 If you live in metro Detroit, a new study has found that it's more cost effective to own a home than to rent one.
Detroit is the second-best big metropolitan area in the country to own rather than rent, according to the
study
from the Urban Institute called "Barriers to Accessing Homeownership." Researchers found median-income households in the area would save 7 percent of their income when purchasing a median-priced home with 3.5 percent down rather than renting. The only metro area with higher cost savings was Miami-Fort Lauderdale, topping a list of 17 areas where it's better to own a home than rent one. By contrast, renting was cheaper than owning in 16 metro areas.
Sucks for you if you live in Detroit proper, where the majority of residents are now renting following a 10-year period in which
1 and 3 properties were foreclosed
. According to the
Detroit News
, in 2000, 45 percent of Detroiters were renters. In 2016, 54 percent of city residents were renters.
Homeownership in the city is further out of reach for people who don't have enough cash on hand to buy a home outright, as banks are unlikely to lend money for transactions in the city. In a report published this year,
Bridge Magazine
found
less than 20 percent
of home sales in Detroit financed by mortgages.
It's a troubling trend as incomes stagnate and the price of rent continues to rise around the region and country as a whole. According to a
study conducted by Harvard University researchers in 2015
, nearly a quarter of renter households in metro Detroit were severely rent-burdened, meaning they spent more than 50 percent of their income on rent and utilities. Nearly 50 percent of renters were moderately rent-burdened, meaning that they spent more than 30 percent of their income on rent and utilities.
Both locally and nationally, it was a
record-setting year
for the number of renters paying more than 30 percent of their income on housing costs, according to a study author who spoke with the
Detroit News
. According to the
News,
the Harvard study also found that the new housing supply for renters with lower incomes remains low, and that rental housing is often being built for wealthier households.