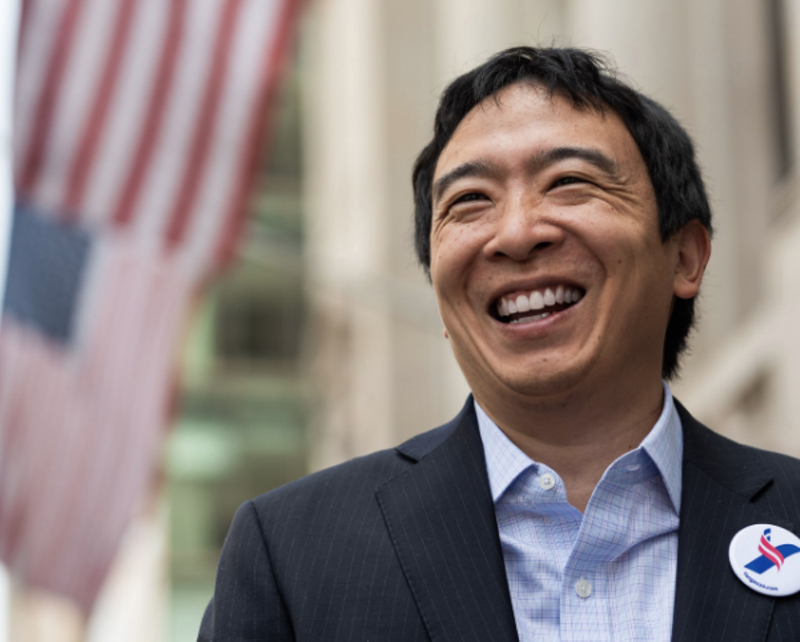 Andrew Yang says he believes his campaign is on pace to take the White House in 2020 because "the opposite of Donald Trump is an Asian man who likes math." And, for all intents and purposes, Yang is both of those things. Oh, and he's also a
self-proclaimed "ex-goth."
The 44-year-old tech entrepreneur, who first threw his hat in the ring in 2017, now finds himself in a crowded pool of 20 Democratic presidential candidates. He's running on a few standout signature platforms which he will likely rally behind when he brings his Humanity First tour to Detroit,
where he first launched the trek in November
. This time, he'll be paying a visit to the Detroit Shipping Co. on Saturday, May 4, from 6 p.m. to 8 p.m.
Well it looks like my senior year yearbook photo is about to make the news in a feature about candidates when we were young. Sharing it here so you can see what I was about in 1992. Favorite bands: the Smiths and the Cure. 😀 pic.twitter.com/6qASjBceys

— Andrew Yang (@AndrewYang) March 29, 2019
Described by some as a
"new kind of Democrat" or a "Technocrat,"
Yang first snagged some national attention for
aligning himself with those who oppose circumcision
, or intactivists, going so far as to propose furthering parents' education before making the choice to circumcise.
He's also become a standout candidate for his proposed "Freedom Dividend," a slightly sexier term for universal basic income. UBI would aim to act as a defense against the growing reliance on AI and automation in the workforce. It also could potentially act as an economic stimulant, as it would provide each adult in the U.S. with guaranteed payments of $1,000 per month, no matter employment status, no questions asked.
Other notable stances include the creation of a Department of Attention Economy, which would aim to focus on smartphones and social media and how to better design and regulate them. Yang cites a "
huge surge in depression, anxiety, and emotional issues
," especially in youth, as being a cause for national concern. Yang has also advocated for public subsidies and investment into local journalism, and supports a single-payer health care system and pardoning marijuana-related offenses. He says he believes he has clinched the nomination because eccentric over-actor
Nicolas Cage is part of the "Yang Gang."
I think Nicolas Cage may have donated to my campaign. It is done.

— Andrew Yang (@AndrewYang) March 11, 2019
For more information on Yang's Detroit visit, click
here
.
Get our top picks for the best events in Detroit every Thursday morning. Sign up for our events newsletter.