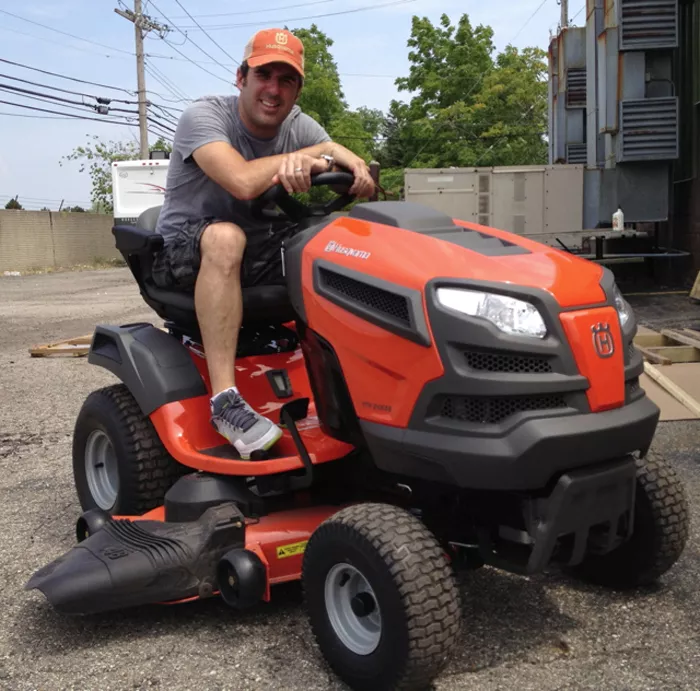 By day, Tom Nardone is an Internet entrepreneur, running a Troy-based online retailer of "things that are embarrassing to buy in person" called PriveCo. By evenings, though, Nardone leads a group of vigilantes. Since it began four years ago, Nardone's Mower Gang has piqued the interest of national television shows like Bizarre Foods With Andrew Zimmern and Anthony Bourdain: Parts Unknown. But most importantly, it has cleared dozens of abandoned city parks for Detroit youth. Nardone spoke with us about what drives his gang's motor — and how, hopefully, the city won't need them anymore someday.
Metro Times: How did the idea for the Mower Gang come about?
Tom Nardone: I read this book called Bowling Alone, and it talked about how people of my era aren't joining civic organizations like the Elks Lodge, Masons, and the VFWs. My dad was an Elk, and I always thought he just went there to play poker and drink beer and get away from my mom. They do a lot of volunteer work, they gather a lot of money for charity. The house fees for the poker games, the profits from the bar, all that sort of stuff is funneled into all sorts of great programs.
At the same time, the city of Detroit was announcing that they were closing parks. This was in 2010. It was a closure of something like 100 parks — they take the trash barrels away and it just turns into an overgrown field. I thought a lot of these parks have playground equipment and people who live nearby. They just need to be mowed — essentially the city is not mowing them anymore.
Part of my [day job] is to sit and think. I thought I could sit on the lawn tractor and think and kill two birds with one stone. You know, on a nice day, sun myself a little, get out of my office. So that's what I started to do.
MT: When did it become a gang?
Nardone: I found a project that required more people. It was the Dorais Velodrome. It was in such disrepair, there were trees growing through it. Someone said that the last time it had been used was 1989.
A long time ago I volunteered with a guy who was doing soapbox derby. There was no Detroit Soapbox Derby Club, and he started one. He said he had found a velodrome in Detroit. This was probably in 1996. He took his go-kart there and he said the banking was steeper than Michigan Speedway, and there was a giant crack in it, but he ran a bunch of laps with it.
When I was looking for parks to mow, I remembered there was a velodrome. I went to Google, and there was this video that was really indecipherable. Some guy had taken some home video footage and thrown it all in there with the moon landing footage. I think the week they were finishing up the velodrome, they also landed on the moon, so somehow in his memory it's all tied together and he tried to turn it into a video. It had no sound, and it didn't make any damn sense to me. But it had the word "Dorais" in it, and that's the name of the playground where the velodrome is.
I contacted all these groups of people who I thought would want to ride around a velodrome — mountain bike groups, road bike groups, remote control car clubs, motorcycle groups — anybody. But I thought before I contact people, I should come up with a name for my group. I made a logo with a skull and cross mower blades. It said "winning Detroit's other turf war."
MT: What's the organization like?
Nardone: I put the events on Facebook. There's no administration or budget or anything. We're not a nonprofit. These days we get about 20 to 25 people. If we have a big event, we get more. We mow every other Wednesday — "after work," that's what time it is. It's very nonspecific. And there's no organization whatsoever. We show up at a place, and people just start working on stuff. I can't remember the last time or any time where I was the first person to arrive. I think it's a very unique group. The members of the group aren't all Generation X. I'd say the ages go from maybe 20 and up to maybe 70. Most of the people are probably 32 to 40.
MT: How do you pick which parks you're going to mow?
Nardone: We do have to limit what we do, because we get a lot of requests. We definitely know that kids can't mow their own playground. It's very easy to make them a priority. It's got to be for kids. The best part of the job is kids come right out and they play on the playground.
MT: Have you ever encountered anything strange at the abandoned parks?
Nardone: We find dead dogs and cats every once in a while. We haven't found a dead body yet. There seems to be a consensus among the gang that it will happen at some point. We've met some interesting characters. The longer a park is abandoned, the stranger things can be. Some places are so far gone that nobody remembers what it was. Sometimes someone sort of calls it home, or they don't live there, but that's where they hang out.
Mostly people come out and smile and chitchat, though. Say bad things about the city, ask us who the heck we are. Some people can't wrap their head around the fact that we're volunteers. They want us to do something else, like "Can you mow my yard next?" or "Why haven't you been picking up the trash?" We get asked that a lot. But most of the time, we wear our shirts, and people have heard of us.
MT: Are a lot of the people from your gang from Detroit?
Nardone: Hardly anyone. I think it has to do with the fact that you kind of have to own the equipment. Most of the gang members own a lawn tractor because they live on two acres or something.
MT: Any big plans for the Mower Gang for the future?
Nardone: The city has been doing a really good job of mowing the parks right now. They're catching up. We never had trouble finding parks that needed to be mowed until this season. We always joke that we're hoping the city will put us out of business.