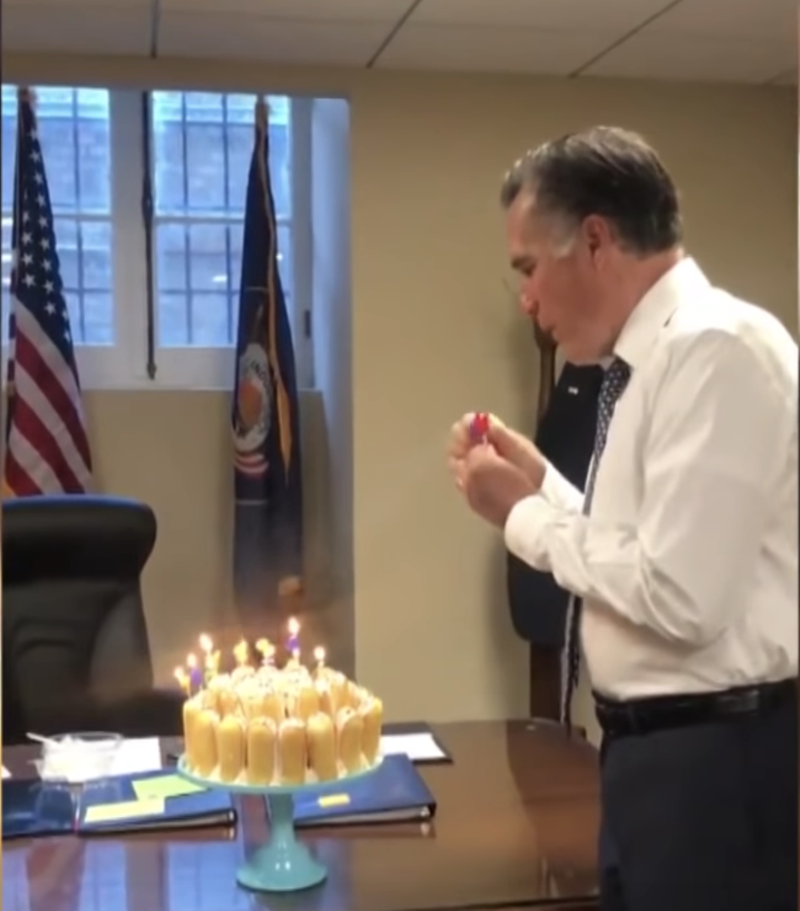 Senator Mitt "Binders full of women" Romney celebrated a birthday this week like a totally normal, not at all weird human.

Romney turned the big 7-2 on Tuesday and was surprised when his staff delivered a birthday cake made up of two dozen erect Twinkie's (his "favorite snack") complete with a totally average rendition of "Happy Birthday" — what followed is nothing short of remarkable (and probably a rehearsed distraction to some other political garbage but we'll take what we can get).

My team surprised me with a cake made out of my favorite snack—twinkies! Looking forward to all this year has in store. pic.twitter.com/lQfyIrQ9Qe

— Mitt Romney (@MittRomney) March 12, 2019
As the song concluded, Romney marveled at the kind gesture and the cake itself. Pretty normal, right? The 2012 Republican Presidential nominee then proceeded to gently remove each of the lit candles from the Hostess snake cake mound one by one, bringing each close to his face like a little secret so that he could blow them out.
"These are all wishes I'm getting," Romney said as he collected candles in his hand while also continuing to blow at the entire cake from afar.
This is the most bizarre technique for blowing out birthday candles that I've ever witnessed. Mitt Romney is a deeply weird dude. pic.twitter.com/kLGuJawDpv

— Bradford Pearson (@BradfordPearson) March 12, 2019
A number of folks put their true crime podcast listening to use:
Mitt Romney is a serial killer. pic.twitter.com/UAV8b35lWc

— Dead Serious (@Deadseriousness) March 12, 2019
the footages of mitt romney "blowing" "out" "his" "candles" pic.twitter.com/fSZ7Piex72

— hunter harris (@hunteryharris) March 12, 2019
mitt romney delicately squeezing a twinkie between a pair of tongs as he selects it from a large lobster tank

— your new dad (@drankturpentine) March 12, 2019
Hi I'm Mitt Romney. Approximating human emotion and activities. Ha. Ha. Aren't we having a raucous time!

— Mittens Romney (@overheardmitt) March 12, 2019
Get you a man who looks at you like mitt romney looks at twinkies pic.twitter.com/bB6GEjzlZv

— deer saint denis, (@bussysaintdenis) March 12, 2019
Of course this is how Mitt Romney blows out birthday candles...OF COURSE pic.twitter.com/hqtPe3wGct

— Jason M. (@JaJaJaJasonnnn) March 12, 2019
Even this grandma trolled Romney's wish-hoarding ass:
Guys it was my grandma's birthday dinner tonight and out of nowhere she decided to flex on Mitt Romney pic.twitter.com/Jn2KSJsvQ5

— Rob Flaherty (@Rob_Flaherty) March 13, 2019
Others are more concerned about his environment.
Does Mitt Romney work out of a jail cell lmao pic.twitter.com/dvXvCp5Zxd

— Richard mindcraft, Zeppelin Junior. (@988182forklift) March 13, 2019
Turns out he's actually always been kind of a weird dude.
so you're telling me mitt romney doesn't know how birthday candles work pic.twitter.com/a3YSGCRrDd

— katie hicks (@kt_hix) March 12, 2019
This is an actual thing Mitt Romney, adult human, has said:

"I know steaks are great but I like hot dog best and I like hamburger next best"

— Helen Rosner (@hels) March 12, 2019
And a shitty dude.
The craziest part of this video is that Mitt Romney spent 12 years as a member of a religion that believed in white supremacy https://t.co/lzxb0XawDH

— Steve Morris (@stevemorris__) March 12, 2019
Following the incident,
Romney explained to TMZ
that the reason behind his technique is far less endearing than the video made us believe.
"Very simple: I have a bit of a cold and I didn't want to spray my germs all over the Twinkies for everybody else to eat," he claimed, adding that he also wanted to take advantage of the cake's many wishes.
"It was a tw0-for."
Looking back on this, at times, wild emotional ride, we think the nation can agree on one thing: A cake made of Twinkies is the most disturbing part of Romney's celebration.
congratulations to Mitt Romney's staff for making the guy who strapped a dog to the roof of his car and owns a dancing horse and has an elevator for his cars seem almost human and relatable

— Jeff Tiedrich (@itsJeffTiedrich) March 12, 2019
Stay on top of Detroit news and views. Sign up for our weekly issue
newsletter
delivered each Wednesday.