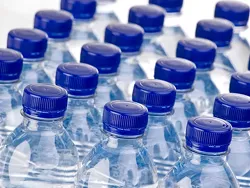 While Governor Snyder and his administration engaged in
finger-pointing and prevarication
over Flint's water crisis, Flint pastor Bobby Jackson was quietly working to bring safe drinking water to the residents of his city.
Belt Magazine
interviewed the pastor
at his Mission of Hope shelter, where cases of bottled water have crowded out the pews in the small sanctuary:
"Nobody can sit in my church!" Pastor Bobby says, and like most the things he says, it comes out sounding like a good thing. A blessing. Spend enough time with Pastor Bobby, and you can't help but see blessings anywhere you look. If you don't see them, he'll point them out to you.

The media has dubbed Pastor Bobby "the water guy", a nickname he lived up to even before the eyes of the country were focused on the city's tainted water.

"Okay, it's interesting because — I've always been a water guy. Because people living in abandoned buildings, and people who have shut-offs in their regular houses, would come here and get water. But then they had to get their own buckets then, and I let them get water," he says.
Read more about Flint's "water guy"
here
.
---
Colleen Kowalewski is an intern at
Metro Times.