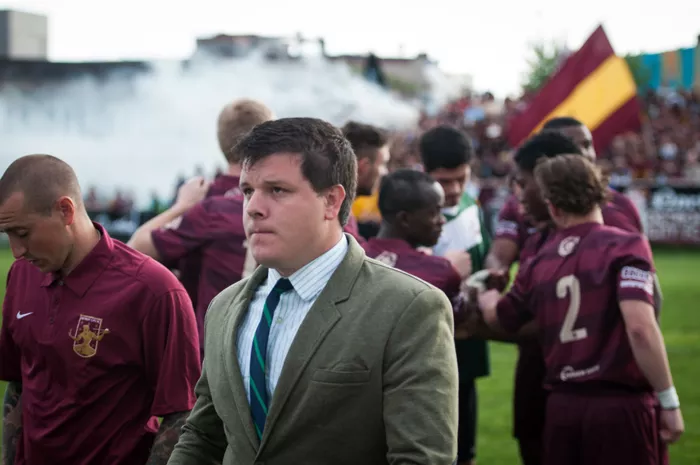 Thanks to the U.S.A.'s national soccer team performing more than respectably in the World Cup, the profile of the sport has been growing all over the country. Here in Detroit, we may not have a Major League Soccer team, but over at Cass Tech, the Detroit City F.C. team, nicknamed Le Rouge, is flying the flag for the city with pride — and it already has a rabid fan base. About midway through its current season, we grabbed head coach Ben Pirmann and got into some details about the beautiful game.
Metro Times: How's the season going so far?
Ben Pirmann: It's going well. We have five wins, one loss, two ties. Currently, we're second place in the division, but we have two games in hand on the team above us, and we actually play them on Sunday [the Indiana Fire]. It'll be a very good indicator of how this season could go. If we win, we're in the driver's seat for the playoffs. If we don't get all three points, then we know we need some help and we'll need to maximize points from the last five games.
MT: It'll be tough, because Indiana Fire inflicted that one loss on Detroit, your first regular-season defeat since 2012 …
Pirmann: You know, we played really well. Some things didn't go our way. We've been bitten pretty bad by some injury bugs lately. We didn't even take a striker down really, so we created a ton of possession and chances but couldn't finish one off. Hopefully we'll get a couple of guys back for Sunday night.
MT: When did you join the team?
Pirmann: I started coaching the team last summer, so this is my second season as the head coach and it's the third season in the club's history. I'm two years into it and, like you said, that was our first defeat last week, so hopefully there won't be many more of those.
MT: What had you done before?
Pirmann: Well, I'm currently still the assistant coach at Michigan State University, so I was there and I still am there. I'm doing both right now.
MT: What are your aims and ambitions for the team? Where do you see it going?
Pirmann: Two and a half months ago, I told the team that our goals were to win the division, make the playoffs, and then our goal as a team is to make the final four of the playoffs. Obviously, we know that the number one goal is to win the division and get into the playoffs.
MT: Despite the fact that Detroit City F.C. is only three years old, the fans are rabid. What do you put that down to?
Pirmann: I think there are multiple aspects. First and foremost is the pride that the citizens of Detroit have in the city. A lot of the Northern Guard and Le Rouge supporters are residents of the city of Detroit, and also sports fans and soccer specifically. This is a very high level of soccer being played right downtown. They have done an absolutely marvelous job of coming out in rows and rows of support. The other thing that I think that it must be attributed to obviously is that the city of Detroit and our ownership has done an absolutely marvelous job of branding and networking. But just the sport in general is growing and growing, and it's now pretty cool to be a soccer supporter. If you know anything about our supporters, they support Detroit City F.C. and it really is a way of life for them. That's something that is cool and popular, and they've done an absolutely awesome job.
MT: Has the success of Team U.S.A. in the World Cup helped the profile of the game in Detroit?
Pirmann: Absolutely. If you told me that we could have tied the fourth-ranked team on the planet and Americans would be ticked off about it, I would have laughed at you. We tied Portugal and fans were furious. It just shows how incredible the growth of the game in this country has been, for players, for fans, for teams, for the country, for local communities — despite the loss against Germany, we're going through out of the hardest group in the World Cup, and that's a testament to our country, our players, and our soccer pyramid in this country.
MT: Who are the top Detroit City players right now?
Pirmann: Our captain is Josh Rogers. He's a center-back, and he's been the captain of the team for all three seasons. He's an old Mr. Reliable back there. He's scored a few goals this season as well. We have a midfielder called Cyrus Saydee. He's from Lansing. Josh Rogers and Cyrus were teammates at Michigan State. Cyrus is a special player. He's an attacking midfielder, a wide player, and he's scored a lot of our goals this season. The other top player that I would hate myself if I didn't mention is a guy named David Edwardson. He's from Newcastle, England, and he just finished playing soccer at Madonna University. He's a box-to-box midfielder, and he's done an absolutely great job for us.
MT: Do you think there's any chance that Detroit will ever have a Major League Soccer franchise?
Pirmann: There's always hope. If you look at leagues like Major League Soccer and the North American Soccer League, you look at these large, professional soccer leagues, and they're not only growing but they're growing with a purpose. The city of Detroit is probably the best sports town around. I'm biased — I'm from the city, and I think the city of Detroit is the best place in the country. I think it would fit well. I think the supporters of Detroit City F.C. could also support an MLS or NASL team. I think from there, it's really up to the direction that the league would want. It's probably not the most likely thing in the world, but I definitely think it's possible.
MT: How do you see the remainder of this season going?
Pirmann: Last season we had a really good regular season, and then we lost in the second round of the playoffs. This year we added four teams in our division alone, and they're super-tough, so our schedule has been chaos. If we can find a way to get into the playoffs and do some damage, that in itself is a success with the way our schedule's set up.
Find out more about Detroit City F.C. at detcityfc.com.