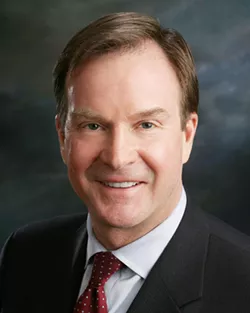 It's been said that more
people will die
if Michigan imposes work-related requirements on hundreds of thousands of residents receiving health benefits under the state's Medicaid expansion. So today, Detroit and Flint residents gave Republican gubernatorial candidate Bill Schuette, a supporter of such requirements, an idea of what that might look like.
More than 100 low-income voters from those cities took to the steps of the attorney general's Detroit office this afternoon for a "die-in." The protest was held with Schuette up at the Mackinac Policy Conference, where he was presumably talking about tax cuts and taking away people's health care.
Schuette has said he supports a bill to make most Medicaid recipients under the age of 64 document at least 29 hours a week of work, job training, or schooling. The measure — which has been criticized in part because it would
disproportionately affect people of color in urban areas
— has passed the Republican-led Senate and is currently in committee in the House.
"Michigan has a responsibility to reevaluate and ensure that taxpayer-funded programs are not only
efficient,
but that they are ensuring the best outcomes," Schuette said in a statement emailed to
Bridge Magazine
last month. "Welfare programs must always be judged on their ability to give a hand up to citizens in need of help, and by their ability to identify and eliminate hurdles to helping able-bodied citizens find a place in our workforce. This is especially vital at a time in which Michigan has thousands of unfilled jobs, combined with a shrinking workforce that is limiting our growth and ability to compete with the fastest-growing states."
"If this common-sense reform [is] not implemented this year, as governor I will work toward its passage in 2019."
It's worth noting that nearly
half of the state's Medicaid recipients already work
. How urgently the state needs to fill jobs also isn't quite clear, as Michigan's unemployment rate has been falling steadily and currently hovers just above the national average of 4 percent.
This isn't Schuette's first apparent effort to leave more people vulnerable to illness and even death for possibly political motives — as attorney general, he spent your tax money on an unsuccessful lawsuit that aimed to block the implementation of the Affordable Care Act.
In supporting the Medicaid work requirements bill, Schuette is essentially advocating for giving back money to the federal government to make things harder on state residents in need in the hopes that they'll lift themselves up by the bootstraps. Bill sponsor Mike Shirkey (R-Clarklake), who was ironically a key supporter of the 2013 effort to expand Medicaid under the Affordable Care Act, reportedly testified in a House committee early this month that he supported Healthy Michigan because he didn't want to leave millions of dollars that taxpayers are sending to Washington on the table.
Stay on top of Detroit news and views. Sign up for our weekly issue newsletter delivered each Wednesday.