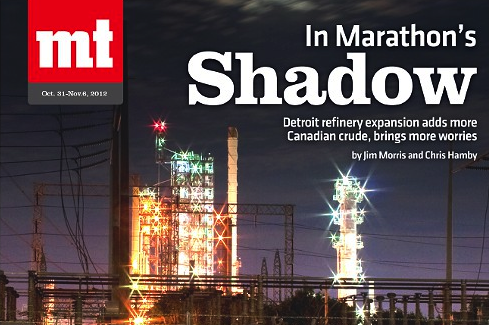 You might have missed it (we sure did), but the Michigan Department of Environmental Quality will be holding a public hearing tonight to weigh plans to allow the refinery to release more emissions into the air.
According to the local chapter of the Sierra Club, the refinery would like to release more sulfur dioxide, oxides of nitrogen, carbon monoxide, volatile organic compounds, small particulate pollution and sulfuric acid mist. If this doesn't sound like soap bubbles and rainbows to you, you're not alone. Lots of the refinery's neighbors are already upset that their part of Wayne County already doesn't meet federal standards for sulfur dioxide.
The hearings come at a time when MDEQ is under a bit of extra scrutiny, after
two high-level resignations
in the wake of a report by the governor's task force, which assigned the agency with "primary responsibility" for high lead levels in Flint's drinking water.
In fact, the timing of the hearing announcement has some wondering if the agency up to its old tricks. Sierra Club Deputy Press Secretary for Midwest Ricky Junquera tells us that the MDEQ set the comment period for these permits during the holiday season, while people were more likely to be preoccupied with seasonal gatherings. Junquera says it's not the first time they've done something like this.
Naturally, Junquera hopes that neighbors concerned about pollution and anybody concerned about the environment will show up to these hearings and affect the outcomes, because a lot is riding on what happens tonight. "This is their public information session," Junquera says, "followed by a public hearing for these permits. So after this hearing, they'll be approving or rejecting this."

The informational session begins at 6 p.m., and the public hearing begins at 7 p.m., tonight, Jan. 6, in the auditorium at River Rouge High School, 1460 W. Coolidge Hwy., River Rouge.