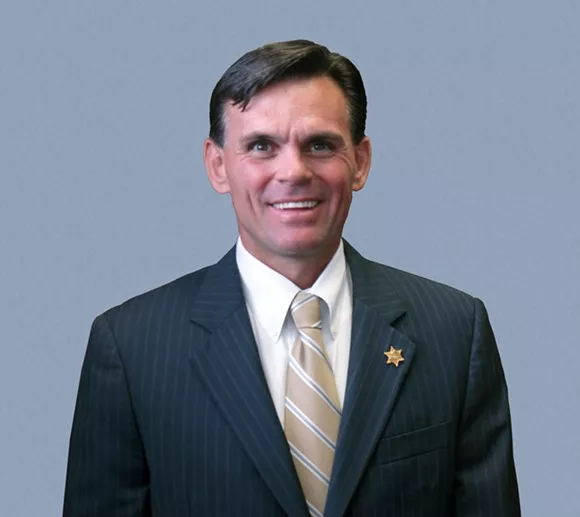 Macomb County Executive Mark Hackel says someone stole a gun out of his car at his Macomb Township home — the first time the former sheriff says has ever been the victim of a crime.
The theft happened in the wee hours of Saturday morning. Hackel
told WWJ
:
"One of my neighbors, as I went to the gym, sends me a text saying, 'Hey some of our cars in the neighborhood were riffled, did you notice anything on your cameras,' because they know I have cameras. I didn't think about it and all of a sudden I'm coming out of the gym and I look in the console, because I remember I keep my gun in the console there, and all of a sudden I look and it wasn't there," he said. "It's the first time I've ever been the victim of a crime."
The thief made off with Hackel's 40-caliber semi-automatic Glock — which he says he lawfully kept in his Ford Explorer's center console— along with some loose change. Hackel says the thief also rifled through his wife's car. The crime happened around 4:20 a.m.
Hackel says according to the video, the man appeared to be able to enter his car by remotely hacking it:
"The interesting thing in watching the video is how he got into that car, and it's pretty obvious that there's something that they're using now where they can actually walk up to the car — he took a few seconds but he remotely opened the car. All of the lights interior, exterior went on. Then he went back, opened up the door and got inside," he said. "I mean, I was just stunned sitting there watching it going, 'What does he have and how did he do that?' So there's technology out there apparently that allows people to do that."
In recent years, thieves have figured out how to copy code from a keyless fob
by intercepting its digital signal
.
The thief is described as thin, short man wearing a hoodie and Nike shoes. Police are investigating.
Stay on top of Detroit news and views. Sign up for our weekly issue newsletter delivered each Wednesday.