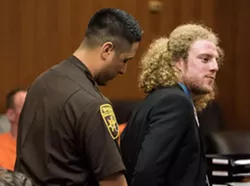 A political activist who was targeted by the Oakland County Sheriff's Office after he helped spearhead a marijuana decriminalization initiative is running for office in Oak Park.
Andrew Cissell, 29, is one of three people vying for two seats on the city's council. His challengers are
Regina Weiss
and Mayor Pro Tem
Carolyn Burns
.
If elected, Cissell says he wants to help spur economic growth in Oak Park by helping bring more small businesses to the mostly residential community.
"I see the need for restaurants and cafés," he said during a recent candidate forum, pointing out the successful commercial corridors in neighboring Ferndale, Berkley, and Royal Oak. "I think we are the family city ... but with that being said, I think what's good for families ... is to have places you can go get a nice meal in the evening time, is to have family establishments."
An environmentalist and volunteer with the Sierra Club, Cissell is also promoting renewable energy as part of his campaign platform. He hopes to put solar panels on Oak Park's city buildings, whose flat roofs he believes to be conducive to the technology. He says the investment would pay itself off within 10 years.
Cissell holds a finance degree from the University of Michigan-Dearborn and says he's held various roles within the Oakland County Democratic Party. He's also a marijuana rights activist who has led successful local marijuana petition drives in Ferndale, Oak Park and other cities.
After he helped facilitate the 2013 decriminalization of marijuana in Ferndale — the first Oakland County municipality to lift penalties on the substance — the Oakland County sheriff's narcotics squad set him up using an informant whose medical marijuana patient status had lapsed.
Cissell is currently on probation on charges stemming from the sale of marijuana to that former patient. You can read about how Michigan's medical marijuana law failed to protect him in last year's Nov. 2 cover story,
"Patients Behind Bars."