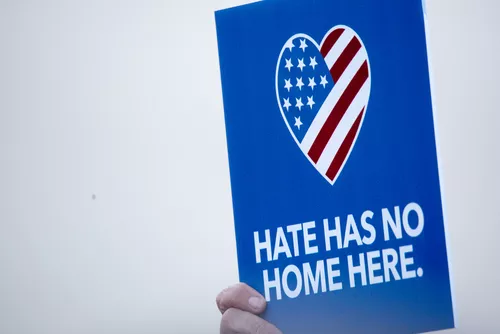 Royal Oak was in the headlines over the last week, due to
racist graffiti that was found on Sunday morning
. The messages were immediately condemned by everybody from neighbors on up to
the city's mayor
. Since then,
police have said
they've traced the vandalism to a man who lives nearby with his parents, and alleged the man has mental health and drug abuse problems that will likely require institutionalization.
While it's good news that no "fifth column" is roving around Royal Oak defacing buildings with swastikas, a group of city residents will go ahead with a demonstration that "hate has no home" in Royal Oak, making clear where they stand.
The group, Together for One Royal Oak, will come together after work today for a rally and march. In a statement released today, the group said, they "call on all Royal Oak residents, the city commission, police, school board members, and other stakeholders to not be silent about bigotry and to actively fight against it in all capacities. Although police have found the person responsible for the graffiti and is now getting mental health services for them, there was still harm caused to the community and this is a call for actions to ensure that Royal Oak is inclusive and welcoming for everyone."
The march begins at 5:30 p.m. today, Wednesday, Sept. 20, at St. John's Episcopal Church, 26998 Woodward Ave., Royal Oak, and will end at the Royal Oak City Hall, 211 Williams St., Royal Oak. For more information, email [email protected]