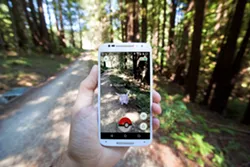 This story! So, there have been a lot of really weird stories coming out of the Pokemon Go phenomena. Dead bodies found, fires mitigated. But this one reported in the
Detroit News
Friday is something else.
On Thursday a 26-year old Milford man, with a warrant out for his arrest, was on the hunt for some digital pokemon, when he walked right into a police station that was virtually housing a bunch of the monsters.
Because some police recognized the guy, he was arrested without incident (he has since been released on personal recognizance bond).
While Milford's police chief Tom Lindberg told the
News
he believed the man would have been found without the game, we aren't so sure.
Pokemon Go, of course, isn't just some benign game. As
Buzzfeed
reported earlier this week, the game has access to a sort of insane (though at this point in the 21st century normal?) amount of
data on individuals
. The conspiracy theories surrounding the game have also been buzzing. Is this the government's ultimate surveillance device? Are Pokemon monsters being used to lure individuals to specific locations, like, say, a police station ...
All things to think about on this fine Friday afternoon.