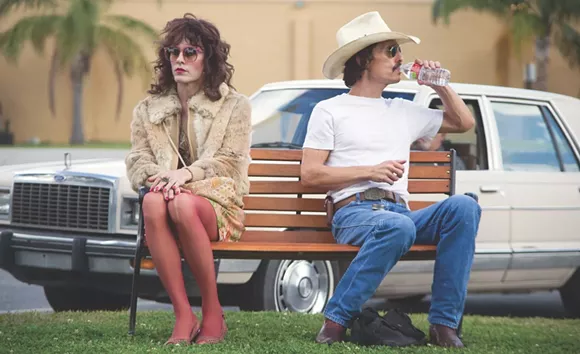 At least 77 people from an area spanning Jackson to St. Clair counties have been targeted in a copyright infringement lawsuit by the makers of
Dallas Buyers Club
, the Oscar-winning movie starring Matthew McConaughey.
The lawsuit, filed Friday in U.S. District Court by Dallas Buyers Club LLC, accuses dozens of "John Does" in five separate lawsuits of illegally downloading the film through BitTorrent, a peer-to-peer file-sharing program. The company has the IP addresses of the alleged defendants and says it can obtain the users names through the course of the case. It follows a round of lawsuits filed against
over 100 people in Western Michigan earlier this year
.
McConaughey and his co-stars, Jennifer Garner and Jared Leto, are mentioned in the complaint, but not named as plaintiffs.
Dallas Buyers Club
has an (ambiguous) "8.0-Star rating" and has "significant value and has been produced and created at considerable expense," the seven-page complaint says.
"The movie industry loses a lot of money every year due to piracy, and it's the only way to deter piracy," says Paul Nicoletti, a Birmingham-based attorney representing the company in Michigan cases.
Attorneys representing the film's owners identified IP addresses across 16 counties, including: Wayne (17), Oakland (16), Macomb (8), Genessee (8), Washtenaw (7), Saginaw (3), Midland (3), Jackson (3), Bay (3), Monroe (2), St. Clair (2), Cheboygan (1), Livingston (1), Roscommon (1), Ogemaw(1), and Iosco (1). A law firm representing defendants in some of the cases, Atonelli Law,
says
similar lawsuits have been filed in eight other states.
To some legal observers, however, it's a fools errand to continue targeting illegal pirates. A recent story in
Mother Jones
explained why
:
Recently, several federal judges have ruled that key information—computer internet protocol (IP) addresses—used by film studios and others to target supposed thefts is insufficient proof to proceed with the lawsuits. And copyright experts say that even though companies are still winning lots of settlements, these firms are going after fewer plaintiffs at once than they were a few years ago. This suggests that their ability to pursue large piracy cases has been hampered.
Here's the problem: Since the identities of the downloaders aren't known up-front, companies typically have to ask the judge assigned to the case to issue a subpoena to obtain the name of whomever is associated with an IP address. This strategy ,
Mother Jones
says, "isn't perfect."
The name connected to an IP address usually identifies who is the paying the internet bill, not who is doing the downloading. Ten years ago, most people didn't use wireless routers at home, but now, more than 60 percent of people do. And all the computers using a single wireless router have the same IP address. So if your tech-savvy neighbor is piggybacking off your wireless internet—and illegally downloading Mean Girls—you could take the heat. And Stoltz, from the Electronic Frontier Foundation, points out that when people receive settlement letters, they are often scared into paying up—"even when they didn't download illegally, or had valid defenses."

Mother Jones
cites an example in 2012, when a law enforcement agency in Indiana went after an anonymous person "making online threats to local police."
After a SWAT team broke down the door and tossed a couple of flashbangs into the entryway, they realized they'd gotten the wrong place. The home had an open wifi router. The threats were coming from down the street.
Oops.
But Nicoletti says copyright law enables companies to sue individuals for infringement, and without an IP address, that would be nearly-impossible.
"There is no way to sue anyone without the right to sue an IP address," he says. "It would be a right without a remedy. You couldn't enforce copyright infringement." If the IP address owner isn't the individual downloading the film, "then the burden is on [them] to tell us who is."
"From my experience, it's virtually 100 percent accurate," Nicoletti says. When we sue an IP address, that's where it's coming from."
Nicoletti says he hass filed "a couple dozen" cases in Michigan, Indiana, and Illinois. Most of the cases settle out of court for $5,000 on average, he says.
Update: A previous version of this story should have identified Atonelli Law as a law firm that represents defendants in copyright infringement cases.