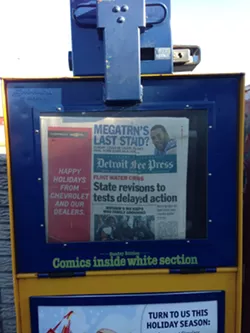 The Flint water crisis gets an above the fold,
front page article
in Thursday's edition of the
Detroit Free Press —
though the piece contains no new information on a story that broke more than three months ago.
The article details how the state was slow to acknowledge the problem — that Flint's emergency manager-mandated switch from Detroit's water to the Flint River wound up contaminating the city's supply with lead — by repeatedly downplaying its severity and attempting to discredit the investigations.
Yet it was also the mainstream media that has been slow to acknowledge the crisis.
The story was first reported by Curt Guyette with the ACLU on its
Democracy Watch blog
and here in
Metro Times,
and
first announced by the ACLU at a Sept. 15 press conference in Flint.
Through a unique partnership Guyette and the ACLU have both broken news on the scandal as well as create it (Michigan's ACLU is the only branch in the country to have an investigative reporter on staff). After publishing a leaked EPA memo, Guyette and the ACLU conducted the independent water tests alongside Flint's Coalition for Clean Water and Virginia Tech researchers by going door-to-door and collecting water samples.
"I was really walking a line in my own role as a journalist and activist," Guyette
told CJR
last month. "I'm not just observing the story; I'm participating in it. In my mind, I'm just trying to get to the truth."
Earlier this week,
the story was the focus of a segment
of Rachel Maddow's national MSNBC show, who argued the crisis can be traced to Michigan's "radical" emergency manager legislation.