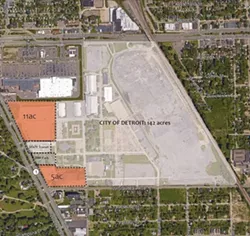 Magic Plus LLC's purchase of roughly 16 acres of the former Michigan Fairgrounds has successfully closed, according to an announcement made on Monday by the Michigan Land Bank Fast Track Authority.

The price for the land was around $472,000, and the firm has indicated intentions to create mixed-use development on Woodward. This purchase has been in the works since March 2018, when the Lansing-based firm — which features NBA star Magic Johnson as one of its principals — first announced it.
Detroit will be coughing up an additional $7 million to buy the remaining 142 acres, which is troubling to some Detroit residents who say taxpayers will have to foot the bill, Metro Times reported last year. At that rate, Detroit will be paying nearly $20,000 more per acre than Magic Plus LLC.

Put another way, $472,000 for 16 acres works out to $29,500 an acre. However, the $7 million Detroit will pay for 142 acres works out to about $49,295 an acre.
The fate of the grounds has been up in the air for quite some time. Then-Gov. Jennifer Granholm canceled funding for the Michigan State Fair back in 2009. After that, the state-owned land just sat there for nearly a decade, and the state was still expected to take care of it. Later, the Land Bank Fast Track Authority indicated only one qualified applicated submitted a proposal to do something with the land — Magic Plus LLC.

The plan involved retail, a movie theater, townhomes, and an assisted living complex for seniors along Eight Mile Road, MT previously reported.
So many restaurants, so little time. Sign up for our weekly food newsletter delivered every Friday morning for the latest Detroit dining news.