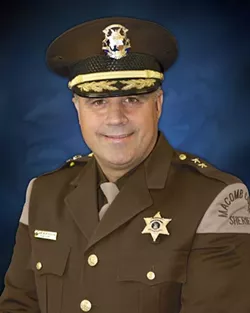 Macomb County Jail is the latest Michigan corrections facility to get full-body scanners, aimed at reducing the amount of drugs and weapons being smuggled into the lockup in Mount Clemens.
Macomb County's body scanner comes after a search of the facility last fall found cell phones, lighters, tobacco products, and suspected narcotics, according to a letter from Macomb County Sheriff Anthony Wickersham to the county executive's office. The November sweep that Wickersham wrote about occurred during a time when there was an increase in the number of contracted workers coming in and out of the facility.
The federal government donated full-body scanners (think the airport) to local law enforcement offices in October 2014. After North Carolina, Michigan scored the most of these scanners — a whopping 21. The Detroit Free Press
reports
that there are currently 20 full-body security scanners in 17 correction facilities in the state.
Back in 2014, the
Lansing State Journal
reported that the full-body scanners being delivered to local law enforcement agencies came from airports, but were removed because of defects that showed nude images of those being screened.
The issue of privacy among inmates, however, has not been a concern.
"It's an entirely separate set of standards," St. Clair County Sheriff Tim Donnelley told the
Lansing State Journal
in 2014. "I think the public gets that."
While privacy may not be of concern to the jail officials, the efficacy of these screeners may be.
The same
Lansing State Journal
article highlighted research from a team out of University of Michigan, Johns Hopkins University and the University of California, San Diego, that found imperfections in the scanners' ability to find contraband.
"Frankly, we were shocked by what we found," J. Alex Halderman, a professor of computer science at the University of Michigan, said in August 2014. "A clever attacker can smuggle contraband past the machines using surprisingly low-tech techniques."
Halderman and his team are not the only skeptics of the scanners. The
Detroit Free Press
interviewed Natalie Holbrook, program director of the Michigan Criminal Justice Program in Ypsilanti, who feels the money should be spent on the education of inmates rather than paramilitary gear.
"I don't think it's gonna make anything safer," she told the
Free Press
, pointing out that contraband can still be brought in by staff. This is a pretty good point, considering that Wickersham's letter noted that the uptick in prohibited items came during a period of time when numerous contractors were coming through the facilities for repairs and contracted work. Why would Wickersham note this if he didn't believe it to be a contributing factor?