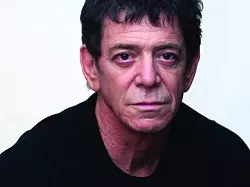 Lou Reed, founding member of the Velvet Underground and the man responsible for such seminal works as Transformer and Berlin, died on Oct. 27. He was 71. No details have been made available, but the singer, songwriter and guitarist underwent a liver transplant in May.
With the Velvet Underground, and particularly the debut The Velvet Underground & Nico, Reed helped redefine what it meant to be in a rock 'n' roll band. Exemplary musicianship played second fiddle to mood, poetic lyrics and, thanks in part to Andy Warhol, a whole lot of style. The subject matter was dark and sensual, Reed balancing precariously on the line separating seedy and beauty.
As a solo artist, Reed enjoyed huge success with 1972's Transformer, with singles like "Walk on the Wild Side" and "Satellite of Love." The follow up, Berlin, was a far darker album, though some would say his best. The guitarist on that record was Detroit's Dick Wagner, formerly of Frost and Alice Cooper's band.
On his Facebook page Wagner says, "I just found out that Lou Reed has died. It brings me sadness, and nostalgia for a time spent playing his music and taking it to the large venues of Europe and America. Lou Reed was a brilliant songwriter and I enjoyed helping him bring his songs to a larger rock and roll audience. The rock 'n' roll animal has passed, but in his recordings, you will find his true contribution to the continuum that is American music."
Never one to take the easy option, Reed's final record was 2011's much-maligned Lulu, an album that saw him team up with thrash metal band Metallica and create some typically awkward, uncomfortably difficult music. As a swan song, for that reason alone, it's perfect.
Brett Callwood is music and culture editor at the Metro Times. Send comments to [email protected].